A day to cherish for those winners and the game of cricket
36th Bata-the Sunday Times Schoolboy Cricketer of the Year 2015
View(s):
Next Friday, July 24 will be a day the schoolboy cricketers will certainly never forget, at least for some time. It will be the day when the 36th Bata-the Sunday Times Schoolboy Cricketer of the Year 2015 comes to an end with a glittering ceremony, with the participation of the deserving award winning schoolboy cricketers, their family and friends, coaches and supporters.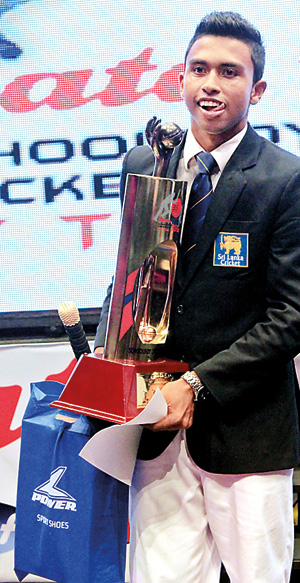 This time the venue will be the Bandaranaike Memorial International Conference Hall or the BMICH at Bauddaloka Mawatha in Colombo. The event will certainly be houseful as almost all the recipients and their well wishers are keenly awaiting this show to come alive any moment after a long wait.
The star of the day or the spotlight of the show will be the winner of the main award, that elegant allrounder Charith Asalanka, the skipper of Richmond College Galle and also the talented playmaker who captained the Sri Lanka Under-19s outfit.
The presence of one of the longest and humble servants Sri Lanka's national cricket team, fast bowling allrounder Chaminda Vass as the Chief Guest, should bring hope on young cricketers and award winners with motivation. Vass went all the way to become the bowling coach of the New Zealand and Sri Lanka cricket teams and what he would have to say to the youngsters should be something that is looked forward to.
Then the presence of national selector Brendon Kuruppu as the Guest of Honour should add more flavour to the show. His words of wisdom will definitely be guidance towards the playing careers of the budding cricketers who are in anticipation of a bright future at the highest level as well as Vass'.
Among those expected to grace the ceremony are officials from the Bata Shoe Company, Wijeya Newspapers, Sri Lanka Cricket, Sri Lanka Schools Cricket Association, parents and coaches of the schoolboy cricketers.
Besides the giving away of awards and motivating speeches, the evening will be filled with other activities as well. Entertainment will be at its fullest, tempting those who are seated off it for a dance.
All in all the organisers of the event have made arrangements to ensure that attendees go home with everlasting memories. The show will begin at 5.00pm next Friday, July 24 and is expected to wind up after five hours.