28th Federation Rankers Carrom Championship 2015
By Lakshman Ranasinghe
Chamil reigns supreme
View(s):
Youngster Anas Ahamed crated the biggest upset at the 28th Federation Rankers Carrom Championship 2015 when he beat World Title holder Nishantha Fernando in the Men's Single semi-finals at the Sri Lanka Carrom Federation headquarters last weekend.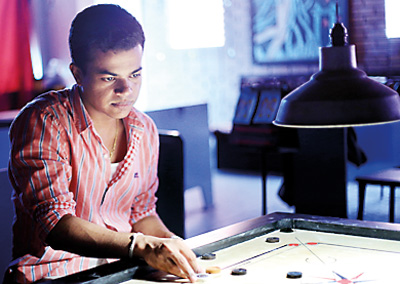 Playing in the second semi-finals Nishantha Fernando won the first set 25/20 but Anas Ahamed came back strongly to win the second and deciding sets to clinch the match and qualifying for the finals. Nishantha with one more year left to defend the world title looked as if he is not at his best as the youngster made use of every miss of the opponent to win the second and third sets 25/14 and 25/17 respectively.
Playing Chamil Cooray in the Men's Singles final this former Royalist won the first set 25/23 but the experienced Cooray displaying his coolness snatched victory in the remaining two sets easily 25/9 and 25/13. Cooray with superb slice work had the youngster rattled and proved his ability to rise to the occasion. Anas Ahamed who had a very successful tourney right through is sure to be in the reckoning in the future.
As expected Joseph Roshita made an easy sail to win the Women's Singles title when she defeated Arosha Wickremasinghe 25/0 and 25/10. The No.1 ranked Roshita displaying her prowess never gave her opponent to settle down with a well controlled slice work.
Results:
Women's Singles final: Joseph Roshita beat Arosha Wickremasinghe 25/0, 25/10
Other ranked positions: Chalani L. Liyanage (3rd), Yasika Rahubaddha (4th), Buddini Dias (5th), Maduwanthi Gunadasa (6th), Detuni Nomaya (7th) and Kusalya Vidanagama (8th)
Men's Single – Semi-finals: (1) Chamil Cooray beat Dimal Senaratne 25/0, 5/25, 25/14; (2) Anas Ahamed beat Nishantha Fernando 20/25, 25/14, 25/17Finals: Chamil Cooray beat Anas Ahamed 23/25, 25/09, 25/13
Other ranked positions: Nishantha Fernando (3rd), Dimal Senaratne (4th), Mohamed Shaheed (5th), M. Sheriffdeen (6th), Udesh Chaminda Perera (7th) and Ajith Chandrasoma (8th)