It's fun performing Broadway numbers
By Duvindi Illankoon
Having taken part in several major musicals through the years, Dmitri Gunatilake is now set for her first solo recital next month
View(s):
Dmitri Gunatilake admits to a love for performing Broadway out of the corner of her mouth. "Aunty Menaka would thoroughly disapprove of this," she laughs, referring to teacher and mentor Menaka De Fonseka Sahabandu. "It's 'easy singing' because there's not a great amount of technique involved in performing Broadway when you compare with, say, classical. But it's so much fun-there's just something about it that I love."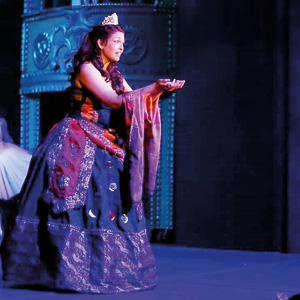 No surprise then, that Dmitri's first solo recital in August will feature Broadway heavily alongside classical and jazz numbers. The performer, 25, is a familiar face to Colombo theatregoers. While she was last in the decidedly un-musicale Reality Show in May, Dmitri has had several leading roles in musical theatre-for example, as Maria in 2008's Sound of Music, as Evita in the 2012 Workshop Players' production of the same name and as Christine in last year's Phantom of the Opera. The latter was the role of a lifetime for Dmitri, who has coveted a chance to sing in the Andrew Lloyd Webber classic for as long as she can remember.
She will tell you that like any singer she has sung (often uninvited) since she was a toddler-"in the tuk, on the road, in class"-but she didn't take it too seriously until she was in her preteens. "I don't come from a very musical background," she shares (her grandmother "used to sing a little" and this show is thus in her memory). "But my parents have been very spportive of my crazy theatre and exam schedules." Dmitri first enrolled for vocal training with Ruwani Seimon. Following Ruwani's passing in 2007 she began training with Menaka De Fonseka Sahabandu.
Since then "opportunities have come easy for me," we're told. Since taking the lead in the Sound of Music just before her Advanced Level examinations ("you can imagine my results," she quips), Dmitri has worked extensively with both the Workshop Players and Silent Hands Productions. This year, she took on the role of an aging actress in Jehan Aloysius' Reality Show. "It was incredibly challenging both physically and emotionally," she says. "I had to take on the role of a woman who had lost her child and her fame. Plus I couldn't sing so it was all about the strength of my acting. But it went well, I thought."
Her theatrical repertoire is the very reason she made the decision to stage this solo recital, says Dmitri. "I feel like people now think of me as an actress more than as a singer," she says. "I want to remind them that I'm first and foremost a performer." Not a singer exactly, but more a performer because "I enjoy being on stage more," she shares. "I do sing at events on occasion but then you rarely have what you would get when you're performing to an audience who have come to hear you sing."
At the recital, Dmitri will tackle three genres of music that she knows will showcase her voice beautifully-classical, Broadway and jazz. Old Broadway hits, such as 'Diamonds are a Girl's Best Friend' and 'Don't Rain on My Parade' are on the repertoire, alongside Sinatra and operetta items like Puccini's 'O Mio Babbino Caro'. Opera is a favourite for the performer, who declares mournfully that "soon I will have to pick between opera and Broadway because I was told you can't do both and be the best." You can also expect a few contemporary numbers, although she'll tell you that she is "definitely not a pop singer, it feels awkward."
She will, of course, sing a few numbers from past musicals she has performed in to keep her regulars happy. "I've tried to choose a repertoire that will interest my audience, and also music that they're somewhat familiar with," she notes. Dmitri will be joined by guest performers Menaka De Fonseka Sahabandu, Laknath Senevirathne, Anuk Munasinghe, Anoj Wijayaratne and Devin Randeniya.
Apart from her teaching commitments (she teaches singing at a few schools and says she'd like to work with a choir sometime) the singer also moonlights as a lawyer and laughs that juggling many obligations is just the way she likes to do things. Her sister, an architect, is also a pianist-"it runs in the family, we have to be doing at least two things"-and Dmitri hopes to pick up some piano-playing skills one day. At the moment, she doesn't play any instruments and will be joined at the recital by Menaka De Fonseka Sahabandu (piano), Sashin Chandrasena (cello), Krishnika Galabadage (flute), Maxie Petersz (double bass) and Charith Fernando (drums).
'A Recital by Dmitri Gunatilake' will be held on August 1 from 7 p.m. at the Russian Cultural Centre. For tickets call 0775281299 or visit Nelu's Advertising in Nugegoda or Kent's in Colpetty. Proceeds from the event will go towards the Child Development Clinic Professional Unit of the Lady Ridgeway Hospital in Colombo.