Identities Inc returns with The Irish Curse
By Purnima Pilapitiya
View(s):
The multi-faceted mask would win the approving smile of any movie buff. The insignia of Identities Inc is an amalgamation of some of theatre and film's iconic characters, clearly reflecting the very essence of the production house.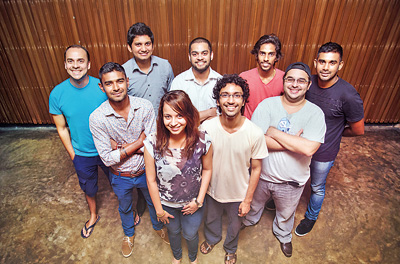 Formed last year, the self- sufficient team is an assortment of personalities from the obvious actors and directors to media personalities, film makers and designers, to name a few. Their preference to cultivate and utilize their in-house talent and ideas is at the very core of what they believe in. Over the last year the team has broadened local theatre boundaries with their choice of plays and avant-garde trailers and art direction.
Their first production- David Mamet's Pulitzer Prize winning Glengarry Glen Ross in 2014 sold out at the Punchi Theatre. Many will remember the slick, suited up real estate agents and witty yet brutally honest dialogue brought to life by a well known cast under actor turned director Gehan Blok's direction.
Identities Inc is back this year with another comedy guaranteeing laughs with equal amounts of humane characters and bold dialogue. Directed once again by Gehan "The Irish Curse" by Martin Casella will feature a stellar cast with many familiar faces from last year's production as well.
In 2010, the show opened off Broadway to rave reviews and won the award for Outstanding Playwriting at the New York International Fringe Festival. Since its critically acclaimed run the play has sold out in London and across America and has been translated and performed in Slovakia.
Gehan will be taking on both roles of director and actor in a cast which includes the likes of Dominic Keller, Pasan Ranaweera, Dino Corera and Andre Perera. Set in New York, the story follows a group of professionally successful Irish American men who meet every Wednesday night at a self-help group in a church basement. From a divorced lawyer to a 20-something macho type, a priest, gay cop and typically nice Joe, Casella's insightful character driven comedy is an eye opener on masculinity, identity and an insightful study of male sexuality and body image.
The Irish Curse goes on the boards at the Lionel Wendt from August 7 to 9. Tickets will be available from July 20. For details log onto their Facebook page http://on.fb.me/1cvWp6F . The play is for mature audiences.