Appreciations
View(s):

Celebrating her life amidst the mourning
Clara Abeyawardene
Clara Abeyawardene was my cousin, the eldest daughter of my father's eldest sister. This meant that she was much older than me, and as children it was her children we knew best. Or rather the elder two, Rohan a year older than me and Manoji a year younger. Amal was always much loved by all, as now, as a totally good tempered child. But he was much younger and did not really make a dent in our consciousnesses then.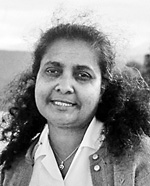 Rohan and Manoji were however great playmates and I still cherish a photograph of me with Manoji on our balcony, taken perhaps half a century ago. But then the whole family left us, when Hector and Clara decided to move to England.
I was then privileged however to enjoy a closer relationship with the family than perhaps anyone else of Clara's relations, for she looked after me when I first went to England when I was seventeen. I arrived in England exhausted, physically and emotionally, having travelled on the continent for three months beforehand. Clara and her family just nourished and cherished me and brought me back to equilibrium.
They hosted me in a comparatively small house in Wallington, with Amal having to move from his bed to accommodate me. Clara was also working by then, but she ran an efficient household, with wonderful meals whipped up on her return each evening. Hector too, despite his own hard work as a popular doctor, also did his share, and it was good to see the family working together. They tried to stop me doing anything, which I got over by claiming that I liked having my hands in hot water while washing up as the days grew colder.
I suspect she was happy however for she was a woman of great intellect and ability, who had not been able to develop in the restricted conditions imposed on upper class girls in Sri Lanka when she was growing up. My father used to tell me that she was incredibly bright, and wanted to go to medical college, but her mother did not think that proper, a fate that had befallen my own mother too.
It was a lively and happy family then that I stayed with, in September 1971. I came back to them over ensuing holidays, though for shorter periods as I grew more enamoured of Oxford, and staying there even in the depths of the vacation when dons would become young again and were happy to treat me as one of themselves. So, having spent Christmas with the family in 1971, I was there only briefly a year later.
It was in the following term that tragedy struck, and Hector succumbed to a massive heart attack, when in his early fifties. I stayed with them in the days following the funeral, and though this was the least I could do, Clara and the children always remembered this with a touching gratitude.
I had to do the same again when Manoji had an aneurism in November 1975. She was studying medicine at Manchester, something which I think, given her own deprivation, gave Clara more pleasure than anything else. Mother and daughter were always very close, and I still recall the last time I saw Manoji, when Clara brought her and her boyfriend down to Oxford. I had known him before for he had been an undergraduate there, and I think Clara was happy to feel she had my full support for what might have seemed unusual for a conservative family.
But tragedy struck later that year. How the family recovered from another bereavement so soon surprised me, but there was no equilibrium yet. Three years later, Rohan who had been at the University of Kent in Canterbury also died. I could not imagine, staying with them on that occasion, how Clara and Amal would cope. He was I think just 17. For me it was almost unthinkable that my two playmates of just a decade back should both have gone in such untimely fashion.
But Clara and Amal coped, and built up a fantastic life together, and also separately. Amal did very well both in his work and his private life, and I have been privileged, from a much older perspective, to observe a wonderfully close family. Clara was immensely proud of them, and in particular of her eldest grand-daughter who looks so much like her, but she also knew better than to be intrusive. She continued, after Amal had set up on his own, to live on her own, and to have a wonderfully active life, full of intellectual curiosity and a wanderlust that was remarkable even as she moved into her seventies.
She travelled to exotic destinations, she took classes in erudite subjects and re-invented herself with ever-expanding circles of friends. Until recently she would email me interesting items on Sri Lanka. Thankfully she and Amal, despite their long sojourn in England, continued to be devoted to the land of their birth. I am immensely proud that Amal should be in the forefront of efforts to support our country, through the pluralistic Conservative Friends of Sri Lanka that he helped to establish.
Clara was able to come to Sri Lanka on several occasions after I got back from Oxford, 35 years ago, and it was always a pleasure to have her stay with us. She had a reputation for being tough, but she always got on well with everyone at home, in particular the various Tamil girls who for different periods stayed with us as refugees from terror, the state terror of 1983 and the LTTE terror in Jaffna in the early nineties. She and Sharmini, the last of them, would chatter for hours, and they came and visited me, both at the University in Belihuloya and my cottage by the Kalu Ganga. I also loved the way she and my father would sit together in tranquility, talking about the past, and it was after one such visit that my father put up in his room a photograph of her mother.
His eldest sister had obviously always had a soft spot for her youngest sibling, and I remember him telling me that, when he came courting my mother, she had told him that he could not possibly go on a bicycle, and had bought him a car. Then, after my parents married, they had provided a home for Clara for some time when as a young girl she had found life at home difficult. I was only told about this, but I recall her younger sister Tekla staying with us at Lakmahal too, when I came to years of consciousness.
Clara kept going well into her eighties. I saw her last in her own home in the lovely flat overlooking Lords that Amal had provided her with. Before that I had for many years made sure that I had a meal with her when I visited England, at the large house the family had moved to in Carshalton Beeches in the late seventies. She was alone there in the last few years, but maintained the house beautifully until at last she was persuaded to move nearer to her son and his family.
Last year I heard she was ill and though in recent years I have tried to avoid London, I made sure I went to see her in hospital. This year too I had decided to spend a day in London just to see her, but a week before I got there I heard she had died. Still I think it best that now my last memory of her is that day last November when she was clearly in great pain but gave me that smile of incredible sweetness which lit up her usually serious face. More than an older relation, she was to me a great friend, and in losing her I have lost one of the bedrocks of my youth. But I also feel that, in mourning her, we must also celebrate independence and determination that ensured, despite much bereavement and sorrow, a full and satisfying life.
-Rajiva Wijesinha
---
An exemplary officer
LT. COMMANDER PIUS ALLES
A couple of years have elapsed since my good friend and naval colleague Lieutenant Commander Pius Alles passed away after a short illness. He was a Naval Gunnery officer in the classical mould of naval tradition. His booming voice on the parade ground, explicit and eloquent instructions to his juniors in the early days of the Royal Ceylon Navy still remain in my memory.
In keeping with the traditions of his specialty, he was always immaculately dressed for the occasion, an example to both young sailors and officers. I still remember the day, when as a young cadet officer, I came out of my mess dressed in a jazzy shirt to go to town. Pius who was nearby walked up to me and politely told me to go back and change my shirt to one of more conventional design in keeping with the dignity of a Naval Officer.
He had a remarkable wit and humour with which he kept us entertained in social gatherings in the Ward Room (officers' mess). He had very amusing anecdotes about the early days of the Navy to tell us. Although he was no brilliant sportsman, he took part in almost all sports.
An officer and gentleman of the highest calibre, he strictly upheld the traditions of the Navy. Although it is forbidden to talk politics in the Ward Room, many officers ignore this rule. But not Pius. I often noticed that when conversations turned to politics Pius used to politely excuse himself from the party.
Even after his retirement he came back to serve the Navy as a reservist. Pius was one of most exemplary officers that I have met both in Sri Lanka and abroad during my naval career. May his soul rest in peace.
-R.I. Samaratunga
---
Varsity Triple colours-man
Saeed Sulaiman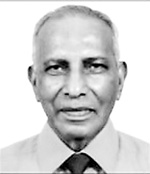 M. Saeed Sulaiman, formerly project manager of the then Nylon Six Project of the Petroleum Corporation expired last month at his Vajira Road residence in Colombo. He was a great sportsman during his University life, where he basked in glory as a triple coloursman, captaining Cricket, Hockey and Rugger.
A chemical engineer by profession, Saeed made a bold decision in taking up the challenge at the Qatar Government Petroleum Corporation (AGPC), and accomplished his assignment winning the confidence of his employers in this desert land, during its early development in Petroleum resources.
Saeed always had winning ways and was a source of encouragement and inspiration especially towards the youth, which he amply demonstrated when he threw his lot with Azahim Mohamed in ushering the Apollo era (formation of the Apollo XI Cricket Club in Borella) 35 years ago.
He excelled in both batting and bowling and was a guiding force imparting coaching lessons to the young ones. He always felt elated when his sons Reza and Reaz ensured their position in the team as the best opening batsman and best opening bowler.
He was a genial gentleman and a very sociable character. None of us who associated with him for so long will ever forget his pleasant demeanour and that sweet smile on his face.
He was a brother-in-law of Al Haj M.H. Mohamed, former Minister and Speaker of Parliament.An octogenarian (he was 85 yrs) at the time of his demise, Saeed Sulaiman leaves behind his beloved wife Mareena and two sons – Reza and Reaz and daughter Shaha.
May Allah Subhanawu tha'ala grant him the highest felicity in Jennathul Firdous-Ameen!
-Al Haj A.H.M. Azwer
---
Only love is eternal
Colonel Fazly Laphir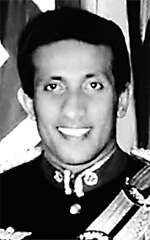 In memory of Colonel Fazly Laphir PWV, RWP, RSP
Commanding Oficer, 1st Regiment Special Forces who died in action on July 19, 1996 while on a rescue mission in Mullaitivu
My dearest darling Fazly,
I walked alone
You came along
Placing your heart in
my care
Saying true love was
So rare
I treasured your heart
humble,
steadfast and true
We walked across jungles,
Deserts and valleys
Climbed high mountains
Crossed rough seas
Promising each other
We would grow old together
Trusting our love
Will only go further
Life is mortal
Only love is eternal
Jungles,valleys,mountains
Seas have got
ephemeral
-Your ever-loving Ano
---
A calm and soft spoken gentleman
Dr. Eric Weerakoon
Eric passed away on June 15, 2014 after a brief illness.
I first came to know this gentle Doctor when he was attached to the Dental Clinic, Kandy Hospital. I was introduced to him by my son Arjuna – a classmate of Ajith (Eric's son) when I went to get a tooth extraction. The first impression I had of Eric was that he seemed a kind and attentive doctor.
When my son, Arjuna and Eric's son Ajith entered the University of Peradeniya, our connection with his family became closer with occasions of dinners and parties. Thus, Rohini – Eric's wife – a tall, slim and smart lady became a friend of mine. Later, when my son Arjuna married Eric's daughter Sureka, our lives became closer and stronger.
I recall the happy holidays and trips our families had in the hotels along the beaches of the South and East Coast. I am sad to mention here that my husband – Amare (a very jolly man is no more – having departed early in 2004) also enjoyed Eric's company especially when they had a sip of wine or beer in the evening over a "chit-chat" at the tourist resorts when we stayed.
Eric had a very happy and a successful married life.
Eric and Rohini were extremely lucky to have celebrated their 50th wedding anniversary in October 2012.
They were blessed with three learned and intelligent children, daughter-Sharmini and son Ajith-both doctors and the younger daughter Sureka with a prestigious doctorate.
All married to doctors – a family of doctors – but with very simple and humble ways and attitudes. Eric was a very sober, soft spoken gentleman. He was very realistic and understood any issue with a balanced mind. If he sensed something going wrong or not to his expectations – he was always calm and cool – not disturbed and never had a hard word for his wife or children. He was a perfect father, and understood his children well especially his son – Ajith.
A noteworthy last wish of Eric was "not to keep his remains for more than one day" – although the following day was a Tuesday, his body was cremated on June 16. Thus, even his son, who was in Japan on a scholarship could not attend his father's funeral.
-Swarna Ellepola
---
A shining and guiding light to all of us
Vasula Kumari Labutale
Mrs. Vasula Kumari Labutale passed away after a brief illness on March 2, 2015 leaving her family of three children and her brother Deva and sisters Kusuma, Iranganie and Kalyani and all her loved ones in shock and sadness. Born on September 5, 1931 as the fifth in a family of nine, "Sudu Akka" as she was popularly called was the shining and guiding light to all of us.
Her father, late D.B. Weerasinghe, was working for the Forest Dept. and her mother Mrs. Soma Kumari Weerasinghe was a housewife from Kandy. Between 1930 and 1950, her father served in several parts of the island. She began her school career at Mahamaya College, Kandy and later studied at Sivali MMV, Ratnapura and ended schooling at Vincent Girls High School Batticaloa. She was a very talented and enthusiastic young woman and apart from studies she was a very keen follower of music, drama and films. She acted in several Shakesperean plays and sang in the choir.
Later she opted for teaching as a career and served at Nugawela Central, Tissa Central and Kingswood and finally at Senkadagala MV in Kandy. She was a compassionate mentor to her students and always advised them on how to conduct themselves in school and society.
During her training at Maharagama Training School she met her lifelong partner L.W.N. Labutale and they married in 1956. During her training period she acted in the lead role of "Punchi Menika" in Village in the Jungle and also took part in social and sports activities.
She has left her legacy in her three children Deepal, Chandana and Aisla, who have inherited her great qualities and we the remaining family members lament her demise knowing we will never see another "Sudu Akka" who was an inspiration to all of us.
May she attain the supreme bliss of Nirvana along the path through sansara and be born again as our loving sister one day.
-Deva Amunugama, Kusuma, Iranganie and Kalyani
---
My lovable, tempestuous friend
MIRIAM RATNADEVI THEVANESAN
Miriam Ratnadevi Gunaratnam was born on September 3, 1943 in Jaffna to Rev. E. E. Gunaratnam, a Methodist minister, and Matilda Gunaratnam, a schoolteacher and principal, also a pothar amma, the term given to the wife of a Methodist minister in Tamil speaking areas in Sri Lanka. She was the granddaughter of Rev. E. K. Elaiyathamby a Methodist minister from Point Pedro.
Ratnadevi's childhood and girlhood were spent in Jaffna, later in Chenkalady, and finally partly in Peradeniya. Those years were blessed by love and happy fellowship. As an only child, her parents cherished and nurtured her lovingly. I had the pleasure of meeting Rev. Gunaratnam on several occasions when Ratnadevi and I were undergraduates at the university in Peradeniya. Fifty years later, I still remember his warm, friendly personality and the obvious affection he showed to his beloved daughter.
Ratnadevi and I first met in June 1962 when she and I both arrived at the Faculty of Arts of the University of Ceylon in Peradeniya. We were both 'freshers' in the memorable Ramanathan Hall. She and I came from different backgrounds. She was a Tamil Methodist from Jaffna, schooled at one of the first Methodist missionary girls' schools in Ceylon, Vembadi Girls' High School. I was a Sinhala Anglican from Colombo 3, schooled at one of the schools run by an order of Anglican missionary nuns, Bishop's College. Our cultures, habits and practices were therefore very different. But we shared many personal characteristics. We both loved laughing and fun. Neither of us belonged to any choir, but we enjoyed singing loudly together as we tramped along on the walk to the Chaplaincy, the united church in which Reformed Christian students and staff worshipped. We both had quick tempers and we were as quick in anger as in liking. So we quickly became good friends.
Once when we were middle aged, we fell out with each other for some months. We were not clear even of the reason for falling out. I thought I was angry over something she had done. But later her children told me that Ratnadevi thought that she had got angry because of something I had done. Our different backgrounds and habits sometimes gave rise to misunderstandings like this. But we reconciled as quickly as we had fallen out. After some months of sitting in separate pews looking glum, we went back to our usual practice of sitting together in the same pew of the church we were then attending.
Ratnadevi spent four years at Peradeniya. She specialised in Sanskrit and I in English. Some of her habits struck me deeply and I have ever since tried to follow her example on those issues. The first issue was her practice of not doing worldly matters on Sundays. She kept the day only for things that God considered holy. While we were at Peradeniya, the holiday on Sundays was moved to Poya days. All Christians felt this inconvenient but Ratnadevi felt this loss the most. Brought up on the Biblical principle of keeping the Sabbath day holy, Ratnadevi found it extremely hard to force herself to attend lectures and do those things that God tells can be completed quite easily on the other six days of the week. After observing Ratnadevi's example, I have tried to follow the "No work on Sunday" principle and trained my children to do the same.
The second issue was the importance of personal prayer. In our fourth year on the morning before a paper of our Final Examination on the following day, I found Ratnadevi kneeling beside her bed in prayer, instead of studying. I came quietly back to my room, wondering when she would stop praying and whether she would pass the Finals. Actually, she did. On this issue I did not follow her example to the same extreme, but it did impress on me the importance of Biblical practices and I have tried to implement these in my own life.
The last matter was the most important. Up till then I had little knowledge or understanding of Methodism or Methodist traditions. Ratnadevi, and also the Methodist hymn book which was used in the Peradeniya chaplaincy, were the first instances of Methodism I experienced. Both opened my mind to Methodist life and people very enjoyably.
Peradeniya marked the last stage of Ratnadevi's girlhood. Peradeniya in the 1960s was still a magical world, made for beauty and romance. Many of us, in one way or the other, succumbed to the delight of falling in love. Ratnadevi followed the same pattern. But unlike many of us for whom magic and romance led to happy marriages, the transition to young adulthood and adulthood for Ratnadevi was almost unalleviated tragedy, heartbreak and hardship.
In sharp contrast to her happy girlhood, in adulthood she went through three disastrous broken love relationships. The first happened in Peradeniya. The second and third disastrous experiences were two broken marriages.
After Ratnadevi left Peradeniya, our interaction came to a stop for over two decades. She had returned to the north and east of Sri Lanka and I to the south west. But our friendship resumed quite suddenly in 1990. One morning I answered a call of the doorbell in my home in Colombo 5. Ratnadevi was standing on my front doorstep, laughing irrepressibly as always. Behind her were two delightful children, whom I was seeing for the first time, Obeth Ratnesan (12 years old) and Evangeline (10), also laughing irrepressibly. They had to be introduced to me and to my children, Ruwan (15) and Avanka (7). My two were enchanted by their new friends, and their friendship has been sustained until now, when all four are well into their adulthood and the oldest of the group, Ruwan, is 40. My friendship with Ratnadevi too continued from that day until her unexpected death on February 2nd 2005.
Ratnadevi's arrival in Colombo was the result of the continuing disaster in her adult life. Her marriage to her second husband had also ended. Once in Colombo, she settled down in a small set of rooms in Moratuwa with a Sinhala landlord among Sinhala neighbours. Ratnadevi looked for employment, and worked first as a teacher, later as a Bible translator.
Life continued to be hard for Ratnadevi during those years. But she remained lively, cheerful: laughing all the time, even while pouring out her frustrations, fears and problems, whenever I visited her or she visited me. I will always cherish her memory, as the second sister God provided for me. She faced innumerable calamities, but remained sane, able to cope for herself and her family, cheerful and always full of laughter.
Towards the last year or two of her life, God blessed her with a short time of peace and happiness. Her mother had passed away and Ratnadevi was now free of the faithful care for her. Ratnesan and Eva had grown up and had taken over the task of going out to work. Ratnesan had found his future partner Christina and Ratnadevi had the great joy of hosting visitors to his engagement lunch. She was talking of and planning for his impending wedding. There was also talk of Christina's kinsman Dinesh (who now is Evangeline's husband), and a possibility of involvement with Eva. Ratnadevi had now been released of the many burdens she had carried single-handed so gallantly. Now at last she was able to dream and plan for the normal joys of life — weddings, happy marriages, grandchildren, peaceful retirement, happiness.
On the last occasion when Ratnadevi visited me in my home (then in Colombo 3), she was dressed in a pretty saree, looking fresh and rested, happy, relaxed, laughing of course as usual. Two weeks later one late evening my husband Duleep came home and said "Ratnadevi is very ill and in hospital. We have to go and see her." She passed away on February 2, 2005.
My lovable, tempestuous friend was finally at rest. Her suffering, vulnerability, hardships were at an end. Before she left Peradeniya, I wrote in her autograph album a verse from a Charles Wesley hymn given below:
And if our fellowship below
In Jesus be so sweet,
What heights of rapture shall we know
When round His throne we meet.
I know that one day we will meet again to resume our fellowship with joyful laughter, better and more perfectly than here below.
-Siromi Fernando