A liftime of rewarding experiences
By Dhananjani Silva
President of the charitable Bell Birds Club in Sydney, Angela Jansz has supported underprivileged children in Sri Lanka since 1978
View(s):
Sri Lankan-born Angela Jansz was just 18 years old when she migrated to Australia with her family in 1975, on completion of her education at Holy Family Convent, Dehiwela. But though she left, never did she sever contacts with her motherland.
In Sri Lanka was a group of children with whom Angela constantly kept in touch. She wrote to them to find out how their studies were progressing or to inquire about their health. The children in turn, wrote to her to share their photos and thoughts.
These kids are what bring Angela back to her motherland, thanks to her involvement in the Bell Birds Club in Sydney – a charitable association incorporated in New South Wales. Run predominantly by a group of Sri Lankans based in Sydney with a few Australian nationals also on board, its objective is to support various charitable projects in Sri Lanka as well as in Australia.
The club was initiated in 1967 by its founder George Jansz who came up with the idea to turn the regular weekend social gatherings he arranged with the Lankan expatriates based in Sydney, into something more tangible. This resulted in the birth of Bell Birds Club on March 17, 1967.
Accordingly, the Bell Birds picked the Paynter Home in Nuwara Eliya as their main charity. Over the years they started supporting many other underprivileged Sri Lankan children through the Dutch Burgher Union, Colombo and Chitra Lane School in Colombo 5.
Angela, the current Club President who has been in the finance industry for 29 years, became a member of the Bell Birds in 1978. Ever since then she played an active role in club activities holding various positions on the Bellbirds Club committee.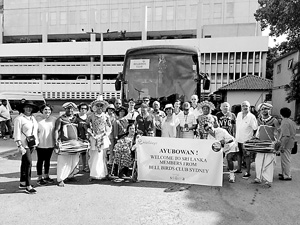 The constant engagement with the club activities to help change the lives of the unprivileged children in your motherland is deeply satisfying, she says. "It is lovely to read all the letters they send, to know that they are growing up and getting on with their lives. They sometimes write to me with surprising news, to say for instance, that they are getting married. These things give you immense pleasure," Angela told the Sunday Times.
"It was so nice to meet them and say hello! I felt like I was able to put a face to their names," she explains. They received a grand welcome at the Paynter Home in Nuwara Eliya this time. During the visit there she has also noticed many new faces and this has made her realise that the old ones, whom she met during her last visit, have grown up and moved out.
The Bell Birds will be celebrating their 50th anniversary in two years and as President, Angela is already making grand plans for the celebrations in Australia. On her visit to Sri Lanka this time, Angela is accompanied by 21 club members (both Sri Lankan and foreign nationals) the purpose of their visit being to monitor the projects they have initiated and to tour the country.
A committee member and the Editor of the club newsletter, Doug Jones has been with the club for the past 20 years. A past pupil of St. Benedict's, Doug Jones has worked as a journalist while in Sri Lanka prior to migrating to Australia in the 1970s. He was introduced to the club through one of the past Presidents.
Elaborating what Bell Birds mean to him Doug says, "You feel fantastic to do charity work through the club. This is not only because we are financially supporting them but also because we see how these young people are growing up to be good citizens. That gives us the courage to help them more."
"At the Paynter Home this time, we were absolutely thrilled to have seen how well these children are looked after," Doug says adding that whenever there is a need to help the people in Sri Lanka the club members will take these things into serious consideration.