Police corruption vis-a-vis police supervision
By Tassie Seneviratne
View(s):
There is a massive build-up of hype these days against corruption and financial crimes on the part of politicians. Police charged with the sacred task of maintaining law and order also going corrupt as revealed in the media is a matter of serious concern. Media revelations on police corruption are only about cases detected. The cleverer ones go undetected and thereby not counted.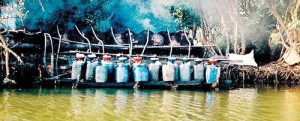 As for recent revelations I shall confine myself to only three media reports due to space constraints, to warn of the predicament the country is heading towards.
n A large scale illicit liquor distillery was detected in Madampe police area by an anti-corruption unit sent from outside. A distillery of this magnitude, the distribution and sale of the liquor, is a business that develops over time and cannot take place suddenly and secretively without the local police being aware of it.
nA rare show of people-power was demonstrated at Kopiawatte in Minuwangoda police area when villages took to the street, blocking traffic in a show of protest over inaction by the Minuwangoda Police to crack down on a large scale kasippu trade in the area. Kasippu mudalalis having protection from politicians and police tend to ride rough shod over innocent law abiding villages.
nThe third report is a most shocking revelation of the cancer that's afflicting the police. A police constable attached to the Peliyagoda Crimes Division for over two years and had been trafficking heroin was arrested by the STF. The Peliyagoda Crimes Division is a special unit functioning under the DIG for Western Province North. Investigations have revealed that this constable with some other constables aiding and abetting had been peddling in heroin seized during detections they make.
A pertinent question that arises is: Where is the police supervision today?
My mind goes back to the period when Aleric Abeyagunawardena was the IGP. Whenever a team had to be sent from outside to arrest illicit drug dealers or crime gangs, in a particular police area, charges were levelled against the OIC of the area and the ASP too, depending on the magnitude of the racket.
During the early 60s there were only five or six DIGs and no Senior DIGs as such, and about 12 superintendents, i.e. SP Grade 1 and SP Grade 2, and no Senior SPs as such. But the supervision was such that subordinate officers of all ranks were kept on their toes.
The feeling of esprit de corps was also at its highest. I remember when I was acting OIC Kosgoda Police in 1961 how messages were passed to all police stations down the southern coast whenever DIG W.A.R. Leembruggen was seen passing Moratuwa Bridge in his white Willis Jeep. All police patrols were extra alerted, books updated and furniture spotlessly cleaned, not knowing on what or where the DIG would put his finger. It was the same practice in the other DIG ranges too, especially Sydney de Zoysa's.
During the good old days, there were 'wall files' on different aspects of policing that needed regular checking and supervision, and monthly returns had to be submitted on the work done. One of these wall files contained a list of illicit dens and hideouts of criminals that had to be kept under supervision. If any illicit den or criminals' resort known to the public was not in the police file, woe it was to the OIC of the Police Station.
An incident involving DIG Leembrugen (Lemba) is worth recalling here. He made a surprise visit to Meetiyagoda Police Station dressed in a pair of white shorts and white T shirt and sat on the bench in front of the constable on reserve duty and started talking to him in English. The constable who knew no English and had not seen DIG Leembrugen before, believing him to be a foreigner (Sudda) blurted off two English words he could muster up – "Bloody Buckingham". The DIG was stopped on track simply looking aghast. The constable then called a police sergeant who knew English. The sergeant recognised the DIG and called the charge room to attention and followed up with the rest of the regimented formalities. When the constable realised it was the DIG, he dropped fainted. Lemba was trying to figure out why he was called 'Buckingham'.
The constable later told us that he used the word 'bloody' to assert himself and Buckingham to rhyme with it for effect. He did not know what on earth 'Buckingham' meant.
Incidentally, DIG Leembruggen, along with Inspectors Eddy Gray and Hubert Bagot participated with the Royal Mounted Guards at the coronation ceremony of Queen Elizabeth II. This was his only connection with Buckingham Palace. With his European complexion, towering stature and handsome looks, Lemba was not second to any among the Royal Mounties.
Today S/DIGs, DIGs, SSPs and SPs are a dime a dozen and none holding himself accountable in a crisis situation. The Katunayake FTZ debacle where at least two S/DIGs and many other senior officers were sent to the spot by the IGP without specific instructions, and none took responsibility, is a case in point. These are the same officers who are supposed to supervise today's Special Investigation Divisions, too.
Tried and tested methods of the past may be lost to posterity if the surviving old guard is not consulted soon enough.
(The writer is a Retired Senior Superintendent of Police)