Art space: Sri Lanka's first curated online gallery
View(s):

Artspacesrilanka.com, the first curated online gallery to present a comprehensive catalogue of art that can be browsed as well as purchased online was unveiled last week. The project is founded by curator Saskia Fernando with an aim of connecting the increasing number of talented artists in Sri Lanka with her gallery's local and international network of enthusiasts and collectors.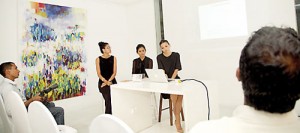 The website also aims to encourage art enthusiasts to begin collecting contemporary art by providing an accessible entry point and diverse range of styles of art to cater to varying tastes and preferences.
Fernando established the Saskia Fernando Gallery in 2009 and continues to curate Paradise Road Galleries. 'There are more artists working in the local scene than our galleries are able to accommodate,' she says. "In addition most of our collectors have become familiar with the quality of art we present and thereby trust that purchasing art through us online is safe and practical, particularly for those with busy schedules."
"The great thing about this new project is it allows us to work with more artists and connect them with our database of collectors. A gallery is always limited by its physical space however Art Space Sri Lanka takes us outside these walls and gives us the opportunity to present the complete diversity that exists in the Sri Lanka art industry while maintaining a sensitivity to the more stringent curating of work at Saskia Fernando Gallery," she added.
Art Space Sri Lanka presents work of varying price ranges, from USD 20 upwards. Delivery in Colombo limits is free and delivery outstation or shipping overseas can be quoted within three working days. Artspacesrilanka.com makes the process of purchasing art for private collections and corporate projects easier. All artists placed on the website are carefully selected by the Art Space Sri Lanka team.
The website has been designed to make browsing from computer, tablet or phone easy. Registering on the site takes around five minutes and the structure allows one to create a collection over time before deciding to send through the final selection for final enquiry.