Top 6 Grade 5 Scholars for Asia-Pacific Children's Convention
View(s):

The Asia-Pacific Children's Convention which fosters peace and friendship will be held for the 27th year in Fukuoka, Japan. Attended by children from nearly 40 countries of the Asia-Pacific region, this year's convention will be held from July 9 to 22.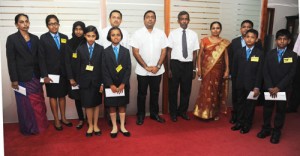 At a ceremony held at the Ministry of Education on July 8, the Minister of Education handed over air tickets while expressing his good wishes to 6 young Sri Lankan participants.
The 6 students who scored the highest marks at the Grade 5 Scholarship exam in 2014, will participate with a former participant and a teacher as chaperone.
The 8 participants are:
1. W.A. Venuja Nimsath – Embilipitiya Primary School
2. H.M. Malaka Nethmal – Polonnaruwa Royal College
3. T. Abhinash – Hindu College, Jaffna
4. G.G.S. Yasodhara – Rathnavali Balika Vidyalaya
5. W.E.P. Dilini Thisara – Viharamahadevi Balika Vidyalaya
6. M.N, Fatima Samah- Mohammed Ladies' College
7. P.G. Dahrshie Nayana Tara – University of Moratuwa
8. Mrs Kamani Priyadharshini (Chaperone) – Hiripitiya Primary School