The Bully
By Manoshi de Silva
View(s):
Mr. Silva's garden was the favourite hang-out of all the birds in the neighbourhood. It was covered with trees and shrubs of different sizes. There was also no pesky cat in this garden to chase the birds off. But what the birds loved the most were the two main attractions in the garden. One was the big plate which was hung with strings tied to a branch. Every morning and evening it was filled with pieces of fruits, rice and bread crumbs. The second attraction was a bird-bath, which was re-filled with fresh water every morning.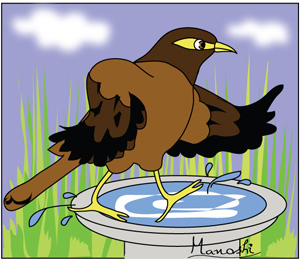 The birds loved to come by every morning to taste a lovely breakfast after having a refreshing bath. So many different birds came and they all took turns, patiently waiting for their chance. So everyone got a fair chance to bathe and eat. They chatted on different topics, while the ones who had beautiful voices took the opportunity to show off their talent with a song or two.
The Parrots usually went straight to the food plate. They were not that interested in having a morning bath. But the Magpies had a good wash and so did the Babblers, who were always giggling for no reason. But one morning their giggling suddenly stopped and the birds perched around the plate turned their heads to see what caused the silence. There was a newcomer! A handsome Mynah, who looked around with curious eyes. None of the birds had seen him around before.
He flew straight to the bird-bath where Mr. and Mrs. Magpie were having a bath. "Out of my way!" said the Mynah, with a heavy accent. "Now wait a minute!" said a Babbler, "We all take turns. Once the Magpies finish, it's our turn. After that you can have a bath!" Although there was nothing funny about this, the rest of the Babblers started to giggle just because they always giggle as a habit. The Mynah turned his head sideways and looked at the one who spoke. Then he started to attack him by pecking him.
The Babblers made a huge noise and flew away helter-skelter. Mynah laughed loud and turned and looked at the Magpies. Mr. and Mrs. Magpie rushed out of their half-bath and flew away to the nearest branch. They didn't want any trouble. Mynah hopped into the bird-bath in a grand manner and started splashing around. "Hey don't splash off the water," shouted a Bul-bul shaking his spiky head. But when he saw Mynah's angry eyes, he got scared and flew away.
When Mynah came out of the bird-bath, there was hardly any water left. He then flew to the food plate. He didn't like the food there, as his favourite food was insects. So he just pecked everything off, throwing them to the ground. "Stop! Stop!" shouted the Koel, "If you're not eating, just go away. Don't waste what we can eat!" The mynah looked into the sky and started to crow. He was good at imitating other's voices. He was almost as good as the parrots in doing so.
The Koel looked worried because she knew that Mynah was trying to attract crows. She was afraid of crows and everyone knew this. So she quickly flew away. The Mynah laughed and laughed. The other birds flew away in disgust.
This became a habit every morning and evening. Mynah was a 'bully' who loved to annoy others or frighten them. The birds were all very upset, but they were all afraid of him so there was nothing to do. They started to abandon the garden they loved so much, because Mynah was making it very unpleasant for all the other birds. Soon there were no other birds seen around the food plate or bird-bath, except for Mynah.
One morning Mynah felt bored without anyone to bully. But he splashed around trying to empty the bird-bath. Suddenly two Crows came down for a drink of water. They were annoyed to see Mynah behaving like he owned the place. Mynah didn't move or give the Crows a chance to drink.
They got very irritated and started to peck Mynah with their big bills. They were much bigger and stronger than Mynah. He was losing the fight. So he quickly flew away and hid inside a thick shrub. He was in tears because his whole body was aching after being pecked.
A small Tailor-bird, who was hopping on the branches, saw him. He knew who Mynah was and how he had behaved.
But still he felt sorry after seeing him cry. "Why doesn't anyone like me?" Mynah sniffed, "No one came to my rescue when I was attacked by the Crows. I am the only bird without any friends. I am always alone." "That's because you chose the wrong way to become popular!" the Tailor-bird replied. "But I only wanted to frighten them a little, so that they'll respect me!" sniffed Mynah.
"When you disrespect others and
bully them, it's no surprise that everyone keeps away from you!" said the Tailor-bird and continued, "No one likes to be bullied or to be near a bully! Did you like the Crows who pecked you?"
"But I am not a wicked bird. I just like to be popular!" sighed the Mynah. "Then, try this from today! If you want to be popular, be nice to others! You'll be surprised to see how many others will be nice to you in return!" said the Tailor-bird hopping to a higher branch. Mynah nodded his head in agreement and promised himself that he'd change his ways, because even he didn't enjoy being a bully anymore!"