Kids world
View(s):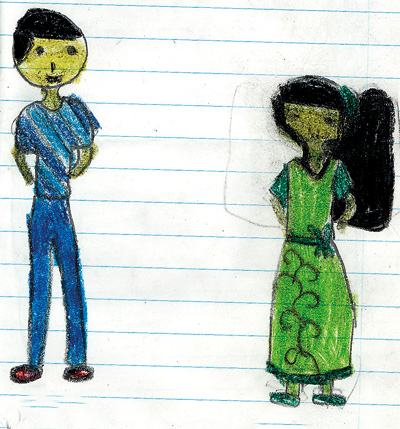 Father's Day
My father's name is Nasim.
He is thirty seven years old.
He lives in Dharga Town. He likes to eat rice and curry and he likes to drink orange juice. He studied at St. Anne's College, Kurunegala.
He likes to play cricket and football. He is a businessman. He is very tall. He is very good.
I love him a lot and he loves me too.
Mina Al Fathima (Grade 2)
Lyceum Int. School, Dharga Town
---
A visit to a turtle hatchery
During the April holidays, my sisters and I went to a turtle hatchery in Induruwa. There are seven kinds of sea turtles in the world. Five kinds lay their eggs on the beaches of Sri Lanka – Leatherbacks, Loggerheads, Hawksbill, Green turtles and Olive Ridleys. People collected the eggs and ate them. So hatcheries were started to save the turtles. They paid people to find the eggs and give them unharmed to the hatchery.
The eggs are buried under the sand in an enclosure. After some time, the eggs hatch and the babies burrow their way out. The baby turtles are kept in tanks for a day to show visitors and released at dusk. They are not released in the day because they are vulnerable. Birds and even dogs would eat them.
We bought tickets to release them and were given a bucket of twenty turtle babies. We stood about ten metres from the edge of the sea and put them on the sand. One by one they scuttled down to the water and swam away.
In thirty years, those females who survive will come back to lay their eggs on the very same beach.
Arundhai Galappatti (8 years)
St. Cecilia's Girls' School, Batticaloa
---
An environmentalist
Perera Uncle is an environmentalist who lives in my area. He never allows weeds to grow in his land. In his garden he has grown jak, mango, teak, margosa, oranges and coconut trees. Many varieties of birds and squirrels live in these trees. There are bee hives too in his garden. He helps others to clean their gardens too.
Minosha Liyanage (Grade 10)
Holy Family B.M.V., Wennappuwa
---
Ramazan festival
Ramazan festival is celebrated by Muslim people. The Arabic name for Ramazan festival is
Eid-ul-Fitr. Ramazan festival is held in the month of Ramazan. The festival comes after 29 or 30 days fasting. The Muslims celebrate the festival by seeing the crescent moon. Ramazan festival is one of the Five Pillars
of Islam. Ramazan is a holy month.
Ramazan festival is announced by the mosque. Then they make sweets like Gulab Jamun, Dhodhal, Wattalappan, etc., and they decorate their houses. Young girls draw beautiful mehendi designs on their hands, boys get together and buy crackers.
They wake up early in the morning and have a bath, then they wear new clothes. After that they go to the mosque to celebrate the Ramazan festival in the faith of Allah. This shows the unity and brotherhood of Muslims. After their prayers, they have the meal together with their family peacefully. Each and every member of the family will share gifts with each other.
In the evening, they visit their relatives, neighbours and friends houses. They take gifts when they go. They spend their time happily. In this way Muslims celebrate their Ramazan festival.
Amhar Imsiyan (Grade 7)
Royal Int. School, Kegalle
---
My favourite country
My favourite country is Africa. The weather of that country is hot. Africa is the second largest continent in the world. There are two main deserts. They are Kalahari desert and Sahara desert. There are many animals. They are tiger, lion, crocodile.
My favourite animal is the African elephant. It is larger than all the land animals. The colour of the African elephant is dark ash. There is a rainforest named Congo. River Nile, the longest river in the world is in Africa.
The mountains like Atlas and Drakensberg are also in Africa. The main reason I like this country is because there are rainforests and the longest river Nile.
Oshini Fernando (Class 7)
Ave Maria Convent, Negombo
---
I'm a coconut tree
I'm a coconut tree. I'm very tall and big. I have green leaves, beautiful flowers, coconuts and long branches.
I give shade for the people and animals. I protect the soil.
I give the coconut nuts.
When there is wind, my branches sway. Some birds make their nests on my branches. Insects come to me to drink nectar. But people cut my branches. Please protect me!
Sandumini Nishanka (Grade

Rathmalavinna M.V.
---
My school
My school is St. Jude's College. It's situated in Kurana. It starts at 7.30 a.m. We study here in English medium. My teacher's name is Mrs. Randi Lakshika. I love my school and the teachers.
Fiona Fernando (Grade 2)
St. Jude's College, Kurana
---
Thomas Alva Edison
Thomas Alva Edison was born in 1847. He was an American. He was one of the greatest inventors of all time. He had a comparatively large head and excessively broad forehead.
His courageous effort and determination made in inventing the electric bulb tells the world a story of a great man. Because of his invention of the incandescent filament electric bulb he made a new path in human history. He has more than 1000 inventions which give evidence of and proves his tremendous ability.
His school life only lasted for three months. His mother was his teacher. He was a hyperactive child and his curious and attentive mind was the reason for his tremendous achievements. Some of his inventions are the kinetoscope, phonograph, vote- recording machine etc. He also rediscovered Thermionic Emission.
Unfortunately he died in 1931.
Rukaiya Nizam (13 years)
Al-Sharia English Institute
---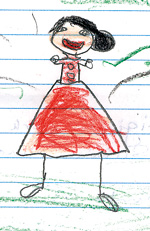 My mum
My mum's name is Shravika.
My mum loves me. Mum and I read books. We are best friends.
Sirinie Amarasekara (Grade 2)
Methodist College
---
Trees
Trees provide us with flowers, fruits and food, wood for fire and furniture, and provide cool shade from the hot sun. Trees provide timber (wood) for building houses and
making furniture. They also provide us medicinal products. In fact most of the medicines that we use ultimately come from trees.
Trees are also very necessary for having a good rainfall. It also purifies the air around us thus making it a better place for us to live in.
So let's all protect trees!
Shalini Liyanarachchi (9 years)
Good Shepherd Convent, Kotahena
---
Myself
My name is Amathullah Munawwar. I am a girl.
I am nine years old. I am studying at Muslim Ladies College. I am in Grade Four. I like to eat apples.
I like to drink juice. I have two brothers and one sister. I am tall and fat. My hobby is collecting stickers.
Amathullah Munawwar (9 years)
Muslim Ladies College, Colombo 4
---
My pet
I have a pet named Goldi. It is a fighter fish. It has a golden tail. I won Goldi at a fun fair.  In a few months my father brought some new fish but I did not forget Goldi. I brought Goldi a new fish tank. I put my old boat in it.
When Goldi was getting bigger we put Goldi into the fish tank where the other fish lived. Goldi had a better time staying with the new fish. One night it was raining cats and dogs. The next day when we went out, the wall was spoiled. So my father hired a man to paint the wall. Because of that we could not go out. After the wall was painted I peeped into the fish tank. Shockingly all the fish were floating. Then I knew that paint had fallen into the water.
All the fish including Goldi were dead.
Even though Goldi never greeted me like a dog or purred like a cat, I still love Goldi a lot. Its memories still live with me…
Thirandie Imbulana (10 years)
Visakha Vidyalaya
---
My trip to China
On April 10 at 9a.m., my mother and I as planned, boarded a  Sri Lankan Airlines plane at the Katunayake Airport. At 12 midnight the same day we arrived in China. My father who is an army officer at present in China undergoing training, was at the Beijing Airport to welcome us.
The next day early morning we visited the famous World Park. Iconic buildings similar to the Eiffel Tower in France, Pyramids of Egypt etc., were there. The next day we went on a luxury bus tour. The tour organizer showed us the Great Wall of China, Panda Garden, Summer Palace, Forbidden City where Mao Tse-tung's photographs were shown everywhere.
The next day we travelled in a bullet train to Xian. There we saw the Terracotta Warriors and City Wall.  Later in the day, my parents and I went shopping at Xian. We spent two days in Xian. We also travelled in a sleeper train to Shanghai. We spent four days in Shanghai. There we went on a river cruise. We enjoyed a lot. We also went night shopping.
My mother and I stayed almost ten days in China and we left on April 21. It was a memorable stay for me in China with my dear mother and father.
Nevanmie Ranasinghe (Grade 5)
Musaeus College
---
My best friend
My best friend is Sanuji. She lives in Battaramulla. She goes to Lindsey Balika Vidyalaya. She is in Grade Seven. She goes to school in the school bus. She likes to play badminton. Her favourite subjects are English, Maths, Sinhala and Dancing. She is the Secretary of the Junior English Literary Association in her school. She likes to eat Kottu and Noodles. She is twelve years old.
Sanuji is very kind and helpful. Her ambition is to be a teacher. We play together. I love my friend so much. She too loves me.
Darshini Rajarathnam (12 years)
St. Clare's College, Wellawatte