Major political realignments as nominations end
By Our Political Editor
View(s):
UNP forms new alliance with JHU, former UPFA stalwarts and SLMC; will contest as United National Front for Good Governance
Sirisena under severe pressure; gives various reasons for Rajapaksa's re-entry but assures he won't betray Jan. 8 mandate
Fonseka's party also seeks alliance with UNP, but demand for six slots in Colombo District rejected
The bitter truth which some disbelieved, others hoped was untrue and yet others dismissed as impossible was officially confirmed as a reality this week.
President Maithripala Sirisena has given his blessings to former President Mahinda Rajapaksa to contest from the United People's Freedom Alliance (UPFA) for the Kurunegala District. He has also done so for Rajapaksa's close allies to contest from different districts. Rajapaksa also submitted names to be added to the UPFA National List. It included a former Navy Commander, Admiral Wasantha Karannagoda. He was Sri Lanka's Ambassador to Japan until his recall after the UNP Government came into office. That list is now awaiting approval. Among other names in the UPFA National List are former External Affairs Minister G.L. Peiris, former UNP General Secretary Tissa Attanayake, one-time diplomat Dayan Jayatilleke, former Chief Justice Sarath N. Silva, former Media Ministry Secretary Charitha Herath, constitutional lawyer Jayampathy Wickremeratne, and scientist/publisher Devindu Kumaratunga.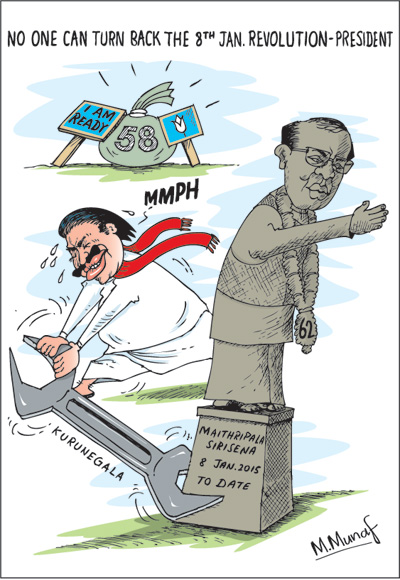 Interesting enough, some Rajapaksa loyalists are still wary about Sirisena's decision to accept Rajapaksa's candidacy. By Friday, they did not seem totally convinced whether his name in the UPFA nomination list would go to the District Returning Officer who is also the Government Agent. The result – close allies have put into place their plan "B." It contains another nomination list. They remained tight-lipped about the signatures on that list except to say "all that has been done in accordance with the law." In some areas, the UPFA nomination lists have already been handed over. Opposition Leader Nimal Siripala de Silva handed over the UPFA list for Badulla District on Friday. Tamil National Alliance (TNA) leader Rajavarothayam Sampanthan said his alliance had already handed in their nominations in the districts of Jaffna, Wanni, Trincomalee and Batticaloa. He said nomination papers for the Ampara District would be handed over tomorrow.
In another unexpected development, the Jathika Hela Urumaya (JHU), renamed as the National Front for Good Governance, is to join forces with the United National Party (UNP). Though they will be in a joint alliance, to be named the United National Front for Good Governance (UNFGG), JHU General Secretary and Minister Champaka Ranawaka is likely to contest the Colombo District on the UNP ticket under the Elephant symbol. Similarly, his party spokesperson Nishantha Warnasinghe is to contest from the Gampaha District. Venerable Athureliya Rathana Thera, another party stalwart, is to find a place in the UNP National List. With this development, some of the other former parliamentarians who veered away from Rajapaksa and supported Sirisena in the January 8 election campaign are now being wooed to join the new alliance. Minister Rajitha Senaratne is learnt to have welcomed the move. Among the other names being mentioned are Hemal Gunasekera, Hirunika Premachandra M.K.A.D.S. Gunawardena and Wijeya Dahanayake. Ranawaka is holding talks with them in a bid to bring them in. The UNP's Senior Vice President Lakshman Kiriella told the Sunday Times five per cent of the party's nominations had been left open for any possible cross over from the UPFA. "By Friday morning we have concluded 95 per cent of the nomination list," he said adding that an alternative list for those not turning up was also on hand. A formal announcement of the new front was made at the UNP convention yesterday by UNP leader and Prime Minister Ranil Wickremesinghe.
Also contesting under the UNP banner and Elephant symbol will be the Sri Lanka Muslim Congress (SLMC). Its leader Rauff Hakeem told the Sunday Times, "The only exceptions will be in Batticaloa and the Wanni districts where we will contest as SLMC under the tree symbol. This is by mutual arrangement." Since the announcement that Rajapaksa was to contest on the UPFA ticket, the vast majority of the Muslim vote was bound to swing to the UNP putting added pressure on Muslim political leaders to back the UNP.
The UNP-JHU alliance indeed is a remarkable turn of events. One of those who strongly opposed the UNP Government's position on many issues at meetings of the Cabinet of Ministers was Minister Ranawaka. He and Minister Rajitha Senaratne were widely known to be having the President's ear and influenced many a decision taken by him. However, relations were strained later. President Sirisena did not inform his two closest political confidants of his decision to dissolve Parliament on June 27 and conduct elections. To make matters worse, the two were also formally not told of Rajapaksa being made a UPFA candidate. Some excused Sirisena saying that he probably couldn't face them in the decision he took to allow Rajapaksa's nomination.
"We will have a strong foe of Rajapaksa and now Sirisena on our platform," said a senior UNPer who did not wish to be identified. He added that Ranawaka was better suited to "tell the story about how those who trusted Sirisena were betrayed." Paradoxical situations in politics are not unusual. Both Ranawaka and Senaratne were not in favour of the dissolution of Parliament, a move which the UNP insisted on. They also strongly opposed the UNP's electoral reform proposals. They accused the UNP of shielding some who were bribe takers or corrupt. Yet, the UNP leadership believes they together with other former UPFA parliamentarians will give more muscle to their campaign.
It was just last week Minister Ranawaka declared in our front page lead story that "the current situation created the need for a third front. We do not want to betray our January 8 victory." He was critical of both Rajapaksa and the Wickremesinghe Government. Ranawaka and his like-minded colleagues, who were at the forefront of the campaign to bring Sirisena to power, cannot be faulted for their political U-turn. They threw their lot with Sirisena to oust Rajapaksa, placed their implicit trust in him and now find themselves politically orphaned.
The UNP, however, has declined a request by Democratic Party leader Field Marshal Sarath Fonseka to field a list of candidates. The request came when the party's nomination board headed by Prime Minister Wickremesinghe, the national leader of the party, met him last Wednesday. In addition to the party's office bearers, Karu Jayasuriya and Daya Pelpola form the nomination board. At issue with Field Marshal Fonseka was a demand to field six candidates from his Democratic Party in the Colombo District under the UNP banner. This request was rejected. Now Fonseka will contest in the Colombo District under his own party whilst his wife Anoma will do so from the Gampaha District. On Friday, some UNP leaders were seeking the return of Fonseka so he could be fielded as UNP candidate in the Kurunegala District as a measure to counter Rajapaksa. However, the law prohibits him from withdrawing his nomination papers handed over already to contest the Colombo District. The Field Marshal was in Kataragama on Friday evening and UNP leaders were making hectic efforts to reach him. A conspicuous absentee at different meetings of the UNP nomination board was deputy leader Sajith Premadasa. One of his aides said he was busy with polls work in the Hambantota District and was unable to travel for regular meetings in Colombo.
An official announcement of the UNP-JHU alliance is expected anytime now.
Premier Wickremesinghe told the UNP's annual convention yesterday "All those of us who supported the January 8 program will come together and form the next government. I invite the other parties to join us to form the United National Front for Good Governance (Yaha Palanaya Sandaha Eksath Jathika Peramuna).
"After the elections we can register this Front as a political party. In Parliament we can represent separate political parties. But to win this let us get together and as the United National party (UNP) is the single largest party, let us contest under the UNP symbol. I invite all the party leaders to finalize the nominations and hand them over. What we have left is to win this battle. After victory we can have a new political culture in the country. Those who went home should stay home, they cannot come back."
Ranawaka is also expected to hold a news conference. One of the JHU leaders Venerable Athureliya Rathana Thera earlier held a meeting with President Sirisena this week. This was amidst offers of a UPFA National List position for him. Former Speaker Chamal Rajapaksa who wanted to retire from politics has changed his mind. He will now contest on the UPFA ticket from Hambantota. At a farewell to parliamentary staff, he said that he had wanted to retire from politics, but his party wanted him to contest from Hambantota district. He hinted that he would be back — as Speaker.
As reported last week, only four UPFA figures have been refused candidacy — Mervyn Silva, Duminda Silva, Sajin de Vass Gunawardena and Sarana Gunawardena. This was from a list of ten names that came up for discussion between the UPFA, SLFP secretaries and President Sirisena. Mervyn Silva called at the Presidential Secretariat to make an appeal to re-consider the decision. Supporters of Duminda Silva staged a demonstration outside the SLFP headquarters at Darley Road. However, a senior UPFA leader said their decision stood and no nominations would be given to the four.
The UPFA list of candidates emerged after Sirisena brushed aside immense pressure this week to reverse his earlier decision to nominate Rajapaksa. Details of how Sirisena decided on Rajapaksa's candidature were reported in these columns last week. Such pressure prompted Sirisena to make a telephone call on Tuesday night to Rajapaksa. "Oba thuma chandeta thawamath idiripathwenawada" (Are you still hoping to contest?)," he asked cryptically, adding that it would be good if he did not. Rajapaksa was emphatic he was coming forward. Rajapaksa said deng pramada vedi or it's too late now. That ended the conversation. What prompted the call is not clear. Rajapaksa loyalists claimed it was after a leading personality met Sirisena and voiced strong objections that the call was made in her presence.
Most livid over Rajapaksa receiving nominations was former President Chandrika Bandaranaike Kumaratunga, the one who persuaded Sirisena to challenge Rajapaksa and contest for the presidency. In the course of discussions this week over nominations, he had left the Gampaha District nominees in her hands before reaching finality. She was not in favour of Prasanna Ranatunga, a staunch backer of Rajapaksa and Chief Minister of the Western Province from contesting. She wanted only his brothers Arjuna and Ruwan to be in the fray. This was whilst Financial Crimes Investigation Division (FCID) detectives wanted to arrest Prasanna and his wife over an allegedly irregular land deal involving Rs. 69 million. Police Chief N.K. Illangakoon has directed that no arrests be made until nominations are concluded. Prasanna's name has been included in the UPFA nomination list for Gampaha District. An irate Kumaratunga boarded SriLankan Airlines flight UL 503 to London on Thursday afternoon. Her office said she was going on a family engagement planned a year ago. She was set to go on a summer holiday with her grandchildren to Greece. She is not due to return for two weeks. However, she is set to take part in the final stages of the election campaign in the Gampaha District.
Sirisena, who had earlier declined to name his predecessor the prime ministerial candidate, refused this week to allow him to lead the polls campaign. It is to be handled by a Campaign Committee which will include the General Secretaries of the UPFA (Susil Premajayantha), SLFP (Anura Priyadarshana Yapa), Wimal Weerawansa, Dullas Allahaperuma and Manusha Nanayakkara — all supporters of Rajapaksa. As much as the Ranawakas and Rajitha Senaratnes have been orphaned so has Sirisena now with his few close allies hitherto, ditching him in return. An issue over some Provincial Council or local authority members not being given nominations because they were Rajapaksa loyalists was being discussed over the weekend.
When the caretaker Cabinet of ministers met for the first time since dissolution last Wednesday, Sirisena did not make any reference to the candidates or the polls. Official spokesperson, Minister Rajitha Senaratne, told a news briefingon Thursday, "there are two matters to take into consideration" over Rajapaksa's candidacy. He said, "One is the party and the other its policies. He (Sirisena) was given the party leadership. His responsibility is how to take this party forward without breaking it up. If it breaks up the blame will be on him." He declared that Rajapaksa's nomination could be vetoed by President Sirisena at any time. However, SLFP General Secretary Anura Priyadarshana Yapa told the Sunday Times, "the President has already endorsed the UPFA list of candidates after it was finalised."
He said he and colleague Susil Premajayantha had many meetings with Sirisena. A source close to the presidency said one such meeting chaired by Sirisena was attended by Ministers Rajitha Senaratne, S.B. Dissanayake and Mahinda Amaraweera. Senaratne had asked whether it was not possible to urge Rajapaksa to contest from the Hambantota District. Both Premajayantha and Yapa had turned down the request saying it was not possible. That proposal was to give rise to reports that Rajapaksa was being confined to the Hambantota District. Debunking Senaratne's claims further were remarks Sirisena made to a civil society group on Wednesday. "After the party General Secretary has taken a decision, I cannot interfere and change it, the President told us," declared Ravaya editor Jana Ranjana, who was one of the participants. His newspaper ran a page 1 lead story this weekend with the headline; "Maithree janavarama paawadei" (Maithree betrays the mandate).
Reasons for Sirisena ceding UPFA candidacy to Rajapaksa were varied. Well informed quarters closely associated with the Presidency claimed Sirisena feared a refusal would lead to a possible tie up between Rajapaksa and Ranil Wickremesinghe posing a threat to his position. This paranoia appeared to be without any basis. However, the only known public explanation Sirisena gave ran counter to his strong assertions before the presidential election. One of his most publicised remarks was how he spent the polls night on January 8 at a coconut estate in Dodangaslanda. He said if he had lost, he and members of his family would have been six feet under. He was alluding to Rajapaksa who he referred to as the ekadipathi or dictator during the campaign. Ahead of that, on the day of nominations on December 8, at the Elections Office, Sirisena said Rajapaksa had offered his hand but he did not shake it. It was out of fear. Was it a charm or some hoodoo? Now, the same Maithripala Sirisena, the President, seems to have got over that mortal fear. He was emboldened enough to allow Rajapaksa UPFA candidacy. This time he gave a different personal explanation to a group of civil society activists on Wednesday night.
It came during a meeting with the Collective of Civil Organisations. The meeting lasted over two hours. Their members, who had supported Sirisena, gathered to voice their objections. Some complained that they had been betrayed. Sirisena cited instances where previous presidents and prime ministers have had Governments with a two thirds majority in Parliament. They were the late Sirimavo Bandaranaike and J.R. Jayewardene. More recently, Mahinda Rajapaksa, as President, had brought about a situation where he too enjoyed a two thirds majority. This led to concentration of power on one side and left behind a weakened Opposition. He said such a situation was not healthy for a country like Sri Lanka. He asserted that there should be a balance.
Those remarks by Sirisena raise more questions than answers. Here is a President who was voted to power on his commitment to ensure democracy and democratic practices. Instead of allowing the voters to elect a Government of their choice, is he now trying to limit their options by a so called "balance" which he is neither legally nor constitutionally required to do? One cannot fault him for believing in the necessity for a "balance" but does that entitle him to manipulate issues to give meaning to his thoughts? Of course one may argue why not, when he is the leader of the SLFP, the predominant partner in the UPFA. He is required to have the interests of his party at heart. On the other hand, Sirisena made a solemn pledge after his election to stay neutral. Some 40 different political parties and organisations that backed him were assured of ensuring good governance and a probe into the lack of it in the past. Such "balancing acts," could have easily been obviated if he were assertive, dispassionate and ensured checks and balances in governance. There was hardly anything of this. Instead, governance on his part was on auto pilot. That vacillation appears to have assumed newer meaning in the current presidency than ever before. Thus patch work for face saving – became the order of the day.
After their meeting with Sirisena, here are some of the views of those in the Collective of Civil Organisations:
Dharmasiri Bandaranayake: "We told the President we did not expect him to change his stance in six months. It was a betrayal. He told us he had to face several difficulties in keeping the party together. On previous occasions when the two parties enjoyed two thirds majority, they acted in a dictatorial manner. It was not healthy for Sri Lanka and there should be a strong opposition in Parliament."
Jana Ranjana: "We told President Sirisena he had gone against the mandate given to him by 6.2 million voters. We said if it was his intention to take back Rajapaksa, he should not have taken over the leadership of the party. He said he was forced to take this decision. He had found it difficult to pass the 19A and was not successful in getting the 20A through Parliament."
Joseph Stalin: "The President told us that though nomination was given to Rajapaksa, he will not leave any room to reverse the pledges made during January 8 presidential polls. He told us that though he was the President of the party, it was the nomination board that handled nominations. He had no control over it."
Nirmal Devasiri: "To be honest I am not disappointed. President Sirisena was honest about his predicament after taking over the leadership of the SLFP. No one criticised him then. Of course there were contradictions with the mandate he won on January 8. He told us that Rajapaksa's candidacy was a decision taken by the UPFA leaders. He is fully aware of the reactions. He was very concerned about the way the UNP handled matters. He asked us to understand the situation he is placed in. He said all leaders who received two thirds vote in Parliament had abused their power. I would like to wait and see. He has assured us he will not go against the popular mandate."
Late last week, UPFA parliamentarians were gathered at the official residence of Western Province Chief Minister Prasanna Ranatunga. Some UPFA leaders were recounting their last meeting with President Sirisena where it was agreed to nominate Rajapaksa as a candidate. One of those who spoke was Mahajana Eksath Peramuna (MEP) leader Dinesh Gunawardena. He quoted Sirisena as saying that since Rajapaksa has been nominated, the UPFA could now win the parliamentary elections. One of Rajapaksa's close allies, National Freedom Front (NFF) leader Wimal Weerawansa told a news conference at the Abhayarama Temple on Thursday, "We have no doubts that the UPFA will win the elections on August 17 and that Mahinda Rajapaksa will be made the Prime Minister. We call on the people not to be misled by the false propaganda."
"The biggest issue for us to contend with was nominations for former President Rajapaksa. President Sirisena behaved like a statesman. He carefully listened to me and my colleague Susil Premajayantha (UPFA General Secretary)," Anura Priyadarshana Yapa, General Secretary of the SLFP told the Sunday Times. "We had a number of consultations with him. He has always listened to us patiently and acknowledged our advice. Once he agreed to Rajapaksa's nomination, he did not interfere with our work," he said. "Seniors in our party were divided. The question before us was whether we break in two or fight together. Thanks to President Sirisena we will be going to the polls as one entity to defeat the UNP," he added.
Yapa conceded that President Sirisena had allowed former President Kumaratunga to first submit a list of candidates for the Gampaha District. She had not spoken to the two secretaries. Asked about moves to remove him and Premajayantha, Yapa replied, "if that happened, we decided that we will tell the truth and leave." Yapa declared "we have had 138 members in Parliament. They have served for almost six years. We are confident of victory on August 17."
The UPFA's first election rally will be held in Anuradhapura on Thursday. Rajapaksa, who cancelled his own rally scheduled for last Thursday, is expected to take part.
The UNP's election campaign will be launched on Tuesday from the George E. de Silva Park in Kandy, one of its strongholds, Senior Vice President Lakshman Kiriella said. Ahead of the event, Prime Minister Wickremesinghe who leads the campaign will call on the Mahanayake Theras of the Asgiriya and Malwatte Chapters, he told the Sunday Times. He said the UNP had received about 16,000 applications seeking nominations. He said the party had left out persons, against whom there were different allegations, "We have no rogues or corrupt elements on our list," he said.
Rajapaksa's candidacy from the UPFA drew comments from other parties. TNA leader Sampanthan said; "We cannot raise objections over his entering a democratic process. This is even if he has been rejected months earlier. He should be entitled to do so. However, that should not minimise the verdict of the people on January 8. There is no comparison between the verdict of the whole country and one that may emerge from a district. One must also remember that at the presidential election, Rajapaksa had at his disposal the entire resources of the Sri Lankan state and he fully used them. It was an uneven playing field. His opponent had barely a few months to campaign. Rajapaksa had been in office for more than nine years. Despite that, he was defeated convincingly. That verdict had a message for the country. The preservation of democracy, the sovereignty of the people, terminating the movement towards a dictatorship, ensuring the dignity of Parliament, ensuring the independence of the higher judiciary and preserving the independence of important civilian institutions were some of the achievements. The impact of the January verdict cannot be minimised."
The disbelief about Rajapaksa's candidacy will be laid to rest for good when he appears at the Kurunegala Kachcheri tomorrow for the nominations. Though he is not leading the campaign and that has been tasked to a committee, he will still appear on UPFA platforms. He will therefore be a main attraction at UPFA rallies — in all the districts in the south.
For the UNP, which has consolidated its campaign machinery with a tie up with former UPFA stalwarts, the thrust would surely be against Rajapaksa and his many allies. Thus, inevitably, the former President will become the major campaign issue for them besides their claim of achieving the pledges made in the 100 Day Programme of Work. There will hardly be any dull moments when the campaigns get under way.