Say it, Sam, say it once again
View(s):

It's been over forty years since Sam Goldwyn passed on to the great celluloid set in the sky. But beyond the wide blue yonder, in a little island republic far from his old familiar stamping grounds – Hollywood – Goldwyn's spirit lives on. The same Sam Goldwyn of mistaken Metro-Goldwyn-Mayer fame, American film producer, and irascible wit. Born 1879. Died 1974. Whose nonagenarian wisecracks and paradoxes ('Goldwynisms'?) still don't fail to crease our faces with a grin. Or so it seems when we survey and spot some of the shenanigans in our own little Shangri-la that bear a resemblance to Sam's milieu.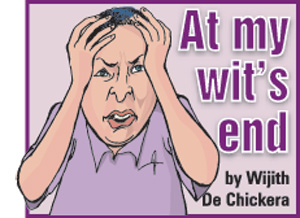 For instance, the increasing number of ministers is putting the media these days in mind of election promises made not many moons ago, that the Cabinet under 'good governance' would be small. Well, the numbers have swelled from under forty – all told – to over eighty. Good, bad, or ugly, politics is about realpolitik. And the Machiavellian epithet that promises made under the expediency of necessity yesterday can be broken today citing the expediency of changed circumstances. Sam Goldwyn would have said: "A verbal contract isn't worth the paper it's written on."
Then again, much had been made – and is continuing to be trumpeted, at least in certain quarters – about the very public romance between erstwhile political enemies. Now, given the calibre of coalitions that went before, we don't want to admit impediments to this apparent marriage of true minds. But it must be said that the cracks are beginning to show. One party says it didn't sign up for this: the ballooning of parliamentary seats in the name of keeping one's mother party happy. The other says it owes its campaign running-mates and election king-makers no debts of favour beyond a certain 100 days. Can the honeymoon continue between these strange bedfellows? As Goldwyn a.k.a. Goldfish would have put it: "In two words: im-possible."
The past five months have seen many men make many exits and entrances. The exits have been more memorable; spectacular. MS broke ranks with his colleagues of two decades. MR left the building under something of a tangible cloud. The 'red leader' bailed on his fellow Bolshies in what seemed to be high dudgeon. A brace of General Secretaries crossed the aisle, as it were. A former Defence Secretary says he is not up for grabs as a future political contender. Leave me alone! was the unspoken request. Schmuel Gelbfish made that very plea like this: "Include me out."
Of late, constitutional amendments have been the cynosure. With the 20th Amendment to the Constitution now in the limelight, 19A – as it will go down in local history – seems to have shed its spotlight. But before, during, and after the proposed bills, several readings, sundry changes at parliamentary committee stage, and all the learned carping and cavilling that passes for commentary in the press, how many politicos and members of parliament – never mind, how many members of the public – were actually familiar with what 19A entailed and 20A entails? As Schmuel G., born Szmuel Gelbfisz, once affirmed about a key script or contract: "I read part of it all the way through."
These days, one of the subjects that is being discussed and debated most intently and intensively is the imminent return of an eminent personage to the high office he once, er, enjoyed. Of course, the 'return of the king' is contingent – among many other factors – on the benevolence of his former lieutenant and now party leader. How many times has a favour been asked? What kinds of threats may have been made, and/or promises held out? Would you give me back the sceptre, again? Schmuel (later Samuel) might have responded thus: "I'll give you a definite maybe."
Well, dears, things have certainly changed. The boot is on the other foot. The jackboot is not in sight. The gloves have come off. Look who's asking whom for favours now! The incorrigible movie mogul we're discussing here would have been quite opinionated about how the state, condition, and degree of political servility in this country has changed: "We have all passed a lot of water since then."
Be that as it may, despite the prognostications of pundits, who will become Lord High Poo Bah or even the Mikado once again is anybody's guess. In our country, the soothsayers know best… except when they make a pig's breakfast of their predictions – as that unfortunate astrologer did in the run-up to 8th January 2015. Goldwyn averred: "Anybody who goes to see a psychiatrist ought to have his head examined." Play it, Sam. Say it about stargazing, too!
There is at least one Very Important Person who must be regretting he ever gave ear to his astrologer. Better for him to have listened to his aides and abettors with more political acumen than have heeded the voice of pathetic astrology. Better for him to have harkened to his own mature insights about the way the game that he played so well up to that time is and was played. Goldwyn had a similar flash: "The next time I have to send a darn fool to do something, I'll go myself." Play as time goes by.
The result has been that there has been a sea-change into something rich and strange on the national political front. Then we had a man who could do no wrong. These days we have one or more who do everything right. Tweedledum and Tweedledee? The incomparable Sam Goldwyn would have confessed – and then repented – thus: "I'm willing to admit that I may not always be right, but I'm never wrong."
We also hear from various quarters these old lulling refrains from runners and re-runners: "Never before have the people had it so good." "There will never be a time like this under our opponents." "We have achieved so much for our country." Our man in Hollywood would have urged: "Let's have some new clichés." Play it again, Sam. The likes of Sam Goldwyn are sorely missed – and needed – in straight-laced, strait-jacketed times and mores like ours.