Iftar at the Barnesbury
View(s):

The Barnesbury at Barnes Place, Colombo 7 has become known as the venue to meet up for that casual chat, a formal meal or even a special celebration! Launched in February 2013, the restaurant is open for breakfast, lunch, snacks and dinner. While the interior has essentially a western feel to it with urban modern British furniture accents, the unique garden space is an absolute bonus.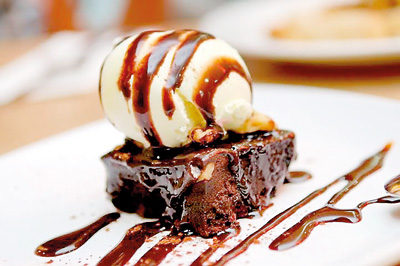 With Iftar just beginning, Executive Chef Manjula Dharmasiri has put together a wonderful set menu to break your fast with! Armed with his experience in Dubai over many years, he brings succulent kebabs, delicious Kanji, other savoury treats and a choice of mouth-watering desserts to the table! Relax in the beautiful landscaped garden or in the enclosed luxuriously furnished dining areas. Food is not commercially prepared either, but absolutely fresh from daily purchased produce.
This Iftar, Chef Dharmasiri has created three set menus for your indulgence! All three menus ranging from Rs.2000. – Rs. 2195. plus taxes per head will have dates, beef or chicken, rice kanji, a choice of a fresh fruit juice, a chicken or beef samosa, a mixed salad and a main. Each menu will have salads in different preparations like mixed greens, chicken salad in mayo, Lyonnais potato, or a Fattoush salad which is an Arabic salad, colourful to the eye and tossed in a lemony garlic dressing. The mains are Lebanese or Egyptian style kebabs and breaded chicken breast. Each menu ends with an exotic dessert.
A prayer room is available to say your salah. Catering for Iftar functions be it indoor or outdoor or, for private smaller gatherings can be arranged.  For takeaway orders, prior notice must be given. Meanwhile, await the launch of an extensive brand new menu with more than 90 dishes before the end of the month! Opening hours of Barnesbury from Sunday to Thursday are from 7 a.m. – 11 pm and on Friday and Saturday from 7 a.m. to midnight. For reservations call on 0112675767 or 0112675787.