A man for all seasons
View(s):

Tony Ranasinghe, the much loved screen hero passed away last week. Here D.C. Ranatunga looks back at his multi-faceted career He started with acting – first on stage and then on screen. With the advent of television he was in demand to act in teledramas. Driven to be more creative, he started writing screenplays and scripts for stage plays. He developed an interest in Shakespeare's plays and began translating them to Sinhala. All this in the span of a little over five decades – from 1961 onwards.

Tony Ranasinghe bade good-bye last Tuesday, June 15, exactly a month before his 78th birthday. It was in 1961 that the much loved actor, beloved of theatre and cinema fans alike, created a sensation in the 'Ape Kattiya' plays, starting with Sugathapala de Silva's 'Boardingkarayo' . He also appeared in Sugath's 'Tattu Geval' (1964). I can still visualise him at the corner of the Lumbini Theatre stage with Prema Ganegoda in the opening scene of 'Harima Badu Hayak' – the Sinhala adaptation of Pirandello's 'Six Characters in Search of an Author', – also written and produced by Sugath.

His performance in Dharmasiri Wickremaratne's 'Ran Thodu' (1963) was not just a sensation in Sinhala theatre. By winning the Governor-General's Award for Best Actor, he proved he could handle any challenging role. In between he was cast by Lester James Peries as Baladasa, the playful village youth in 'Gamperaliya'. Lester was obviously impressed by his cameo performance and in his next film, 'Delovak Athara' , Tony played the lead role of the well-to-do youngster perfectly. He acted opposite Jeevarani, who had made her mark by then in Sinhala cinema. The story of a man thrown 'between two worlds' who on a rainy night, knocked down a man when driving with a female friend (Suvineetha Abeysekera) from his Peradeniya campus days and is unsure of whether he should admit his guilt or not, made film fans sit up and take note.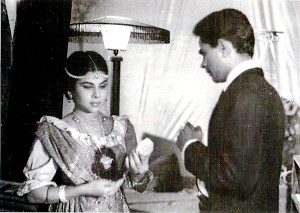 "I think the film made Tony Ranasinghe into a big star. Tony was an enormous success in that role. It was not the conventional Sinhala hero but a new kind of a modern hero. He was very good looking at that time. The film made him so popular that a whole lot of offers came his way immediately. He was faced with the dilemma of having to choose between the cinema and his government job," recalls Lester. Being married with two children, Tony had sought Lester's advice on what he should do. Since he had got more offers from film producers, Lester told him to take the risk. "We need actors like you," he told Tony.
The boy from Modera who, at the end of his school career at De La Salle had joined the government clerical service as an English stenographer, decided to give up sitting behind a desk for the more exciting celluloid world. He had no regrets. In the book 'Lester by Lester', Lester says that Tony was a new kind of romantic actor and a good one.
In fact, that was the time when Gamini Fonseka was dominating the scene with producers picking him for the lead roles. While there was a choice among the females, it was not the case when it came to male actors. Tony bridged the gap and soon became a much sought-after star.
When Gamini Fonseka directed 'Parasathu Mal' (1966), he picked Tony for a key role while he himself took the lead. Tony's convincing performance won him the Best Supporting Actor Award at the Sarasaviya Film Festival in 1966. This was the beginning of Tony's long list of awards. Three years later he bagged the Best Actor Award in Sugathapala Senerat Yapa's 'Hantane Kathawa', playing a Peradeniya campus undergrad along with Vijayaa Kumaratunga and Amarasiri Kalansurya while Swarna Mallawarachchi was cast as the female lead.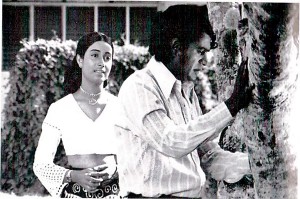 Lester continued to have faith in Tony by including him in his films that followed 'Delovak Athara'. Tony had a difficult character to portray in 'Ran Salu' (1967) torn between a wealthy, reserved girl to whom he is engaged (Punya Heendeniya), flirting with an extrovert (Anula Karunatilleka) whom he deserts after she gets pregnant and getting involved with a rich middle-aged woman. Lester calls it a "very unsympathetic character" developed by P.K.D. Seneviratne, the much acclaimed script writer of the day. Tony once again proved equal to the challenge.
His second Best Actor Award came in 1976 for his role in Vijaya Dharmasiri's 'Duhulu Malak' when he played Nita Fernando's husband, alongside Ravindra Randeniya.  His doctor's role in Lester's 'Ahasin Polowata' (1979) won him another Best Actor award and he followed this in the next year playing the father's role in Sumitra Peries' 'Ganga Addara'.
Tony liked the tough man's character he played in H.D. Premaratne's 'Sapta Kanya' (1993) that earned him another Best Actor Award. With Tony becoming a more mature actor, Lester picked him for roles which matched his years. He was a 'mudalali' in 'Baddegama'(1980) and a doctor in 'Kaliyugaya' (1982). He also was in 'Awaragira' (1995) which he scripted.
Tony's taste for writing, starting with screenplays – 'Koti Waligaya' (1986), directed by Gamini Fonseka was the first, followed by 'Kelimadala' (1991) directed by D.B. Nihalsingha. These two plus 'Awaragira' and 'Pavuru Valalu'(1997) directed by Prasanna Vithanage won awards for Best Script. He played the lead role with Nita in 'Pavuru Valalu' which won ten out of eleven Awards at the Critics' Awards.
Over three decades, Tony won all the major film awards- Sarasaviya, Swarna Sanka, Presidential, Critics and OCIC.
Shakespeare his favourite
From screen he moved on to stage play scripts. He had a love for Shakespearean drama and translated 'Twelfth Night', 'Merchant of Venice' and 'Julius Caesar'. He once admitted that he enjoyed playing Shylock in 'Merchant of Venice' produced by Bandula Vithanage on his script.
I remember the day Tony met me to give a copy of the printed book of the script for 'Julius Caesar'. His in-depth knowledge of Shakespeare was amazing. He had devoted over 160 pages to a lengthy discussion on Shakespeare's life and his contribution to literature providing a valuable document to the Sinhala reader interested in the subject.
Tony points out that Shakespeare was no stranger to local theatregoers. In 1859, a touring party staged Cymbeline in Maradana. In 1874, the students of St. Thomas College staged 'A Midsummer Night's Dream' while in 1884 C. Don Bastian translated 'Romeo and Juliet' into Sinhala and staged the play with D. Bartholomeusz in the lead role. This possibly was the first Sinhala Shakespeare drama.
In a review of the book for 'Sunday Times', I wrote: "In documenting Shakespeare's ancestry, Tony goes into British history of the 16th century, recording interesting incidents. Discussing Shakespeare's contemporaries, Tony compares their lifestyles and describes him as a disciplined man unlike the others. After describing Shakespeare's life story, Tony moves on to trace the background to the drama Julius Caesar and in the process gives the reader an overview of Rome and its history including the emergence of Caesar. Tony presented his script of the play only after a detailed analysis of the original play.
"Tony's language is lucid. His choice of words is just right to fit the different situations and moods." An ardent cricket fan, Tony could always be seen at cricket matches whenever Sri Lanka played an international match. As a boy he developed an interest in cricket (though he never played) and had a big collection of cricket pictures. He also liked Hindi films, particularly those starring Dilip Kumar. Incidentally, he translated the great actor's autobiography.
Tony is no more but his classic performances are etched in our memory. We will always value his contribution to the arts.