Sri Lanka in a Guinness Record initiative
View(s):

Sri Lanka will attempt to set a record breaking feat of gathering tea leaves by 1000 people at one location within a specific period of time. This is being carried out in a unique tri-party partnership of making Sri Lanka a power brand globally, as part of an initiative of Sri Lanka Tourism, Sri Lanka Tea Board and Sri Lanka Airlines to establish a Sri Lanka Guinness Record on the sidelines of the Asia Pacific Onboard Travel (APOT) partners congress 2015 that had selected Sri Lanka as it's venue for the once in two year conference. The Founder of APOT Keerthi Ranasinghe said that at the last conference in Vietnam a similar world record was conquered and Sri Lanka is targeting a similar feat in the tea industry in a unique tri-party partnership.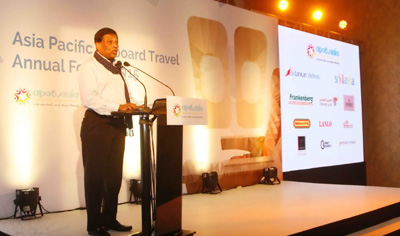 Ceylon Tea endorsed by Sri Lanka Tourism and Sri Lankan Airlines is in a wining position in driving Brand Sri Lanka Globally, said Chairman Sri Lanka Tourism Rohantha Athukorala in a media release."In partnership with Pure Ceylon Tea, Sri Lanka Tourism and Sri Lankan Airlines we hope to set a record breaking feat with the tea industry to conduct a successful attempt of 1000 people gathering in one location to pick the most amount of tea within a specified period of time," he stated. This would ensure that Sri Lanka will enter the Guinness Book of Records on the completion of this event which was will be on August 30.
The event named as "Tea Plucking Guinness Book of Records attempt" started out in the tea garden of the world – Nuwara Eliya. The initiative is not just a one off idea but will be taken around the world and then culminate at the WTM in London, so that the buzz supports the strong above line media campaign that Sri Lanka Tourism would launch in its focused markets while supporting travel trade exhibitions, Mr. Athukorala stated. "We must now build on the joint promotions we do with our two institutions so that together we can increase the quality of our travellers into Sri Lanka," SriLankan Airlines CEO Rakitha Jayawardene said.
The good news is that the process has already begun in the Italian market where 8000 new business (travellers) have been secured in a typical private public partnership between the Sri Lanka Tourism and a top tour operator which was strongly supported by Sri Lankan Airlines, Italian market head, he said. "We are also working on joint promotions in the Middle Eastern market which will come to play in the next two months; its great working together," said Mr. Jayawardena.