National Broadband drive connects school IT Labs with Dialog's High SpeedOptic Fiber and 4G Broadband
View(s):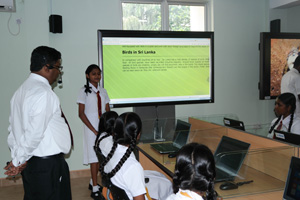 Dialog Axiata has joined the Ministry of Education and the National Broadband Initiative (NBI) project of the Telecommunications Regulatory Commission of Sri Lanka (TRCSL) to connect ICT labs of leading schools in Colombo and the suburbs with high-speed G LTE and the company's island-wide fiber network. This initiative will provide students with seamless access to the Internet for education purposes using the information superhighway, the company said in a media release.
Upali Marasinghe, Secretary to the Ministry of Education, says: "The Internet is vital to education in the modern era, offering a trove of information, learning and networking opportunities to students all over Sri Lanka. We are delighted to partner this initiative with the TRCSL and Dialog to bring connectivity to schools all over the country, as ICT becomes an integral part of the curriculum in time to come".
Dialog Axiata, a significant contributor to the education sector in Sri Lanka, said it is privileged to participate in this initiative, and with the rapid deployment of the pilot project the company looks forward to extending this programme to provide high-speed Internet connectivity to schools all over the island.
"We are honoured to be a partner in the National Broadband Initiative which represents the like-minded thrust of the Government of Sri Lanka in the sphere of establishing the very best in learning infrastructure for future generations of Sri Lankans," said Dr. Hans Wijayasuriya, Group Chief Executive of Dialog Axiata.
Dialog has contributed immensely towards the development of education in Sri Lanka, including gifting the 'Nenasa' distance education network to the government of Sri Lanka and the Ministry of Education, broadcasting the national educational curriculum via satellite to 2,000 under-served schools all over the country.
In addition, its Merit Scholarship Programme has awarded scholarships to close to 600 students to assist their secondary and tertiary education.