Weatherman warns of more rains
Boundary walls surrounding hospitals, schools and playgrounds impending free flow of water reason for flooding in urban areas
View(s):
The Meteorology Department has warned of more thundershowers in the upcoming weeks with the threat of floods and earthslips occurring.
Showers and thundershowers will occur in the Western, Sabaragamuwa, North Western and Southern Provinces during the day and at night with rainfall of more than 100 mm. expected, Met Department Director S. R Jayasekara said.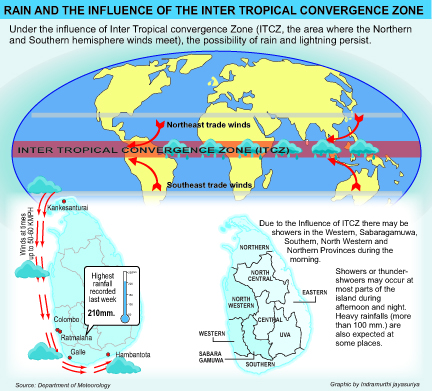 Met Department Duty Forecaster Sajith Wickremasooriya said the sea area from Kankesanturai to Hambantota through Colombo and Galle will be rough with winds at times up to 50-60 kmph and in south west areas winds will be at a speed of 20-40 kmph.
Depending on the influence of the weather in the Inter Tropical Convergence Zone (ITCZ), there is a possibility of rain and lighting and thunder still persisting, he said.
Colombo registered 200 mm. of rain and Ratmalana a record 210 mm. last Thursday, Mr. Wickremasooriya said.
The Met Department advises the general public to take adequate precautions to reduce damage caused by lightning activity.
No families were displaced in the last few days due the heavy rain and there were no major landslides or floods, the Disaster Management Centre (DMC) said.
A senior official of the DMC said a grandmother and her eight-month-old grandson died and the mother seriously injured and hospitalised when falling soil and rock damaged their house in Passara, Badulla after a heavy shower.
Many public buildings such as the Colombo Municipal Council and Maligawatte Police Station were also reported to be a few feet under water last Thursday, CMC Deputy Director Pradeep Kodippili said.
"The Disaster Management Centre is also on alert for any flashfloods or high winds that might occur," he said.
The major reason for floods in the inner city is that boundary walls surrounding large areas such as hospitals, schools and playgrounds halting the free flow of water, Mr. Kodippili said.
He said the construction of unauthorised buildings is the prime reason for the flooding.
"The insufficient network of drains and random filling of marshes worsens the situation," he said.
Badulla Divisional Secretary P.S.P Abeywardana said there was no major damage caused in the Badulla District.
"This is the first time damage caused in Badulla District is less," he said.
"Compensation of Rs.50,000 was given by the Pradeshiya Sabha to the family which lost two lives in the earthslip at Passara," he said.
The irrigation Department said that many sluice gates of tanks in the Anuradhapura District including Tissawewa, Huruluwewa, Rajangana and Mahakanadarawa and in tanks in the Mannar, Polonnaruwa, Kurunegala, Badulla and Hambantota Districts were opened last week.
Nachchaduwa reservoir in Anuradhapura District remains open after flashfloods struck last week, Irrigation Dept. Director G.K Padmakeerthi said. (AS)