Waiting to open a new chapter in their lives back home
Refugees who returned recently from Tamil Nadu under an UNHCR programme talk about their hopes and fears with S. Rubatheesan
View(s):
After 24 years for the first time P. Kugan is returning to his motherland, or at least to the country where his parent's roots lie. He was born and raised in a refugee camp in Gummidipoondi, Tamil Nadu after his family left the country during the war in 1990.
"I'm hoping to start a new life with a new job here. I have completed my higher studies in India. So I'm optimistic," he said.
With hope and slight trepidation in their hearts 66 Lankan Tamil refugees living in camps in Tamil Nadu returned to Sri Lanka on Wednesday in an initiative facilitated by the United Nations High Commissioner for Refugees (UNHCR).
Some naturally have fears about their future and starting a new chapter in their lives.
M. Mankayarthilagam, a 48 year-old widow from Elalai, Jaffna is here on her own and she is uncertain about her future.
"My husband is from Mannar. We fled the country in 1990 in boats to India. He died due to illness in the camp. I have no children. I have asked my sister to look after me but I don't want to be a burden to her," she said.
Puwanenthiran Nilanthan, a youth from Murasumottai, Kilinochchi said although his family decided to return to Sri Lanka before him they are still trying to build a house.
"Our home was shelled during the war now only the land is left. We have to build a new house. There are a lot of things to be done here so I returned," he said.
Returning after 24 years A.Francis Pillai from Mannar said he is not sure whether his house or land is still in tact. He returned with his wife after he came to know that some of his land was being transferred by relatives without his knowledge.
Sepamalai, wife of Francispillai said, they left their children in India and returned to Sri Lanka to see the possibilities of starting a new life here.
"If the current situation continues, we will consider bringing our children too and settle down here," she said optimistically.
Vairamuttu Rasamma (78), the oldest returnee in the group said she was happy to be back home.
"I have seen my grandsons and greatgrandsons. What I want to do is to spend the last years of my life at home with my grandchildren. There's nothing like being back in my village even heaven. This is our home, where else could we go, she asked.
Resettlement and Hindu Religious Affairs Minister D.M. Swaminathan who was present at the Bandaranaike International Airport (BIA) to welcome the returnees said the arrival of this batch of Lankan refugees was significant since they decided to return home voluntarily.
"Earlier they were not happy to return to Sri Lanka. Now normalcy has returned. An interrogation process that was carried out at the airport in the past has lessened significantly," he said.
Minister Swaminathan assured that the government would work along with the UNHCR to make sure that the returnees would be provided with necessary facilities to get restelled.
"Some have got homes others don't. We have to find out from them what they require. At the moment they are staying with relatives. The UNHCR has said it would grant houses in the near future," he said.
According to the Organisation for Elangai Refugee Rehabilitation (OfERR), an India-based NGO that works for the betterment of Lankan refugees, around 110,000 Lankan refugees live in camps in Tamil Nadu.
The UNHCR said they have a programme to assist refugees who return to Sri Lanka through the UNHCR voluntary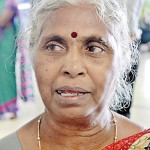 repatriation programme. The UNHCR in cooperation with the Bank of Ceylon deposits a reintegration grant and monetized NFI assistance intended for initial reintegration, such as purchasing household goods or repairing damaged housing, etc. on returnees' newly opened bank accounts.
"All returning refugees are also provided with a transport grant to help them make arrangements to get from the airport to their villages. Once they reach their homes, they are requested to meet with UNHCR field staff, who would then register them for monitoring and referral purposes. Our field staff assists them by making appropriate references to government and non-governmental organisation enabling them to obtain various services, such as: civil documentation, health and education services and livelihood assistance in the places of return," a UNHCR spokesman told the Sunday Times.
Since the end of the war in 2009, around 7000 Lankan Tamil refugees have returned to the country through UNHCR facilitation.
The UN agency also said that there is no specific time frame for other Sri Lankans who still remain in camps to return. "The UNHCR facilitates the returns when the Sri Lankan refugees residing in host countries express their interest/ willingness to return to Sri Lanka. Hence it's impossible to know exactly how many wish to return at this point in time," the spokesperson added.