The Wailers : Just 2 days away
View(s):

It is just two days away from reggae kings 'Wailers' kick start their Sri Lankan beach Concert at the Paradise Beach, Mount Lavinia Hotel.
The Wailers will come alive on 19 May starting at 7.00pm. as a part of Asia leg of their global tour.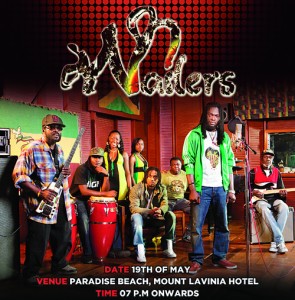 The tickets priced at Rs. 4000/- (VIP) and Rs. 2000/- (regular) are available at the Mount Laviania Hotel.
The Wailers kicked off their global tour of 2015 in February opening with a set of sold-out shows in the U.S. The Wailers will be filling venues across the world throughout the year as they celebrate Bob Marley's 70th birthday and the 30th anniversary of the multi platinum album 'Legend'.
The band will be coming to Sri Lanka after their mega performance in Singapore at the Tanjong Beach Club on 16 May. After Mount Lavinia Concert, 'The Wailers' will be proceeding to 'Irish Village' in Dubai for their concert on 21 May and followed by Doha on 22 May.
Today, Bob Marley's brother Aston leads the band as it continues its worldwide campaign to promote peace, love and equality through the message of reggae and Rastafari. The Wailers Concert in Sri Lanka is a presentation of Mainstage Events and the Global Art of Mixing, the newest event producers in the scene.
For more information on the concert and tickets contact Amrik on 0777 317 /818 or log onto the Mainstage Events Facebook page.