'Italian Altamarca' way at Water's Edge 
View(s):

The Italian Altamarca way is back at Water's Edge featuring 'spit roasting', together with a collection of Italian Wines by Italian Chef Simone Gobo and wine master Leonardo Ricci.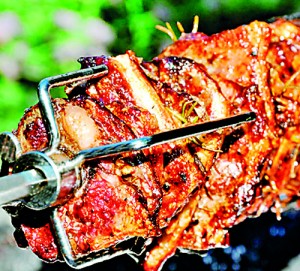 If you missed it the first time or If you would like to relive the experience here's your chance to truly enjoy this unique dining opportunity.
The Altamarca Spit barbeque is a slow cooking technique, which originates from Altamarca Italy. The process features meat that is gently marinated, takes approximately six to eight hours, thus all the juices and flavours are locked in while the meat remains tender with the strong taste of Altamarca Spit barbeque flavor, this with an array of side dishes on buffet will prove to be a hearty meal ideal to be shared with friends.
The event to be held on Saturday the 16th at Rs. 3000 for members and Rs. 3,250 for non – members, at the view will promise the breathtaking view of the lake , grand lawn and beyond.
the tables will be  set to cater to a cozy ambience to allow an intimate gathering of like-minded connoisseurs .
The traditional Spit, Altamarca Style feast, which is a village tradition in which everyone gathers to celebrate and enjoy the feast with a variety of Altamarca's special food, especially the Spit BBQ meats, which include pork rib, shoulder and chicken cooked with a special recipe, and served with traditional wines.
For reservations call 0774827168.