'CELEBRATION SING-ALONG' : 50 and 45 for Golden Chimes
By Sanath Weerasuriya
View(s):
It's a double celebration for the band Golden Chimes  in the year 2015. Leader and the Manager of the band Chanaka Perera completing 50 years in the field of music and 'Lankika  and the Golden Chimes'  also celebrating their 45th Anniversary this year.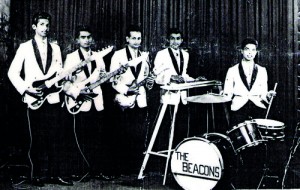 To mark this double celebration, 'Golden Chimes' is organising a Sing-Along concert  along with Anil Bhareti and Rukshan Perera .
'CELEBRATION SING-ALONG' with Lankika & the Golden Chimes will be held on 23 August, at Hotel Ranmal Ramadiya at 6.30 p.m. The grand show will be compered by  Dr, Vijeya Corea.
CHANAKA started his musical carrier in 1965 with then popualr band 'Beacons' a dance band managed by  Wyn Perera and later Vevil De Kauwe. The original band members  were Laksiri Wijepala (leader/ guitar) Chanaka Perera (bass), Sunimal Peiris (Hawaian guitar), Nihal Corea (drums) and  Donald Perera (Mandaline). They played many dances in Colombo along with Jetliners, Spitfires , Harold Seneviratne Combo etc.
Later Chanaka (bass) and Wijith (drums) joined the popualr band 'MOONSTONES' with Clarence  and Annesley in late 1967. They released some of the evergreen songs of the Sri Lankan music scene such as 'Rosa Male', 'Dilhani', 'Sigiriya',  'Kalu Mama' etc……After the breakup of the MOONSTONES in 1969 Chanaka, Wijith  and Clarence formed a new band and performed at a show in Moratuwa in 1970 and named themselves 'Breakaways from the Moonstones'.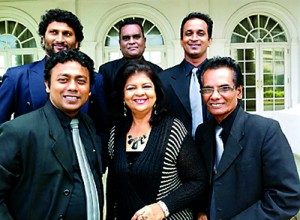 Anton Goonatilleke who used to play with the Beacons joined as the lead guitar for the Moratuwa Concert. They were encouraged by the reaction of the audience, who enjoyed the new band and the new era of music. As Anton was only on a temporary basis, Clarence brought Dixon Gunaratne to play lead guitar as a permanent member.
Gerald Wickramasooriya, Chairman of the 'Sooriya' record  label was given the band name 'GOLDEN CHIMES'.  GOLDEN CHIMES comprises Clarence Wijewardena (leader/rhythm/vocals), Chanaka Perera (bass/vocals),  Dixon Goonaratne (lead) Wijith Peiris (drums).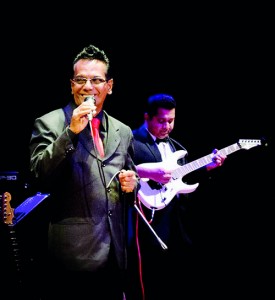 Lankika Perera  joined the Band in 1971 and released their debut hit EP titled 'Kimada Naave' including 'Mage Pelpathe', 'Sihin Sinawai' and 'Samanalayo (Paata paata Ran thatu)' under 'Sooriya Label'. Anil Bhareti joined the line-up in 1971 and released many hit songs such as 'Iru Dina', 'Maa Adarei Nangi', 'Sandai Tharui', 'Malai welai', 'Sudu menike','Bethlehem pure', 'Kiri muhuda', 'Muhudu rella' etc.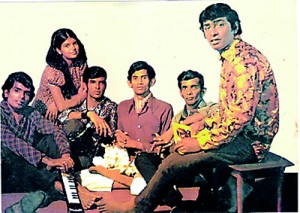 After Clarence and Dixon left the line-up, Chanaka continued the band under his leadership up todate.  Clarence and Dixon were replaced by Rukshan Perera (lead/vocals) and Lakpriya de Silva (guitar/vocals) and released another 3 Eps including songs such as 'Molaketi Puthuni', 'Vishvasai', 'Mula amathaka aya', 'Dalada Perahera', 'Puthu nidiyay', 'Sihininga watakuru' etc….
Every participant will receive a free song book complete with lyrics of around 45 songs of Golden Chimes and some Popular English songs of 60s & 70s era including the songs performed at the show.
Tickets for the 'CELEBRATION SING-ALONG' are priced at Rs.1500/- (Reserved) & Rs.1000/-