Bridging the gap between art and entertainment
Adilah Ismail speaks to Prasad Pereira about his directoral debut in 'The Cemetery Men'
View(s):
Prasad Pereira's to-do list for this week include cemetery hunting. He's torn between Jawatta or the Borella Kanattha – both of which have their attractions.
The ghoulish task of sidestepping tombstones and traipsing in cemeteries are part of the prep for his directorial debut, 'The Cemetery Men'. With a decade of experience behind the scenes on various sets, this is the first time Prasad Pereira will be in the Director's chair. His enthusiasm is palpable and film jargon and various cinematic influences soon tinge our conversation as we discuss the fate of 'The Cemetery Men'.
The short film is partly inspired by a real life anecdote casually related at a party years ago. Instead of being swept away with the debris which usually follow a party the morning after, the seeds of the story took root and grew to assume a life of its own through a film script. When Prasad began work on the script he soon found the story escaping his clutches and the plot and characters coming to life on their accord. Although initially meant to be a thriller, the script metamorphosed into a dark comedy which implicitly deals with the impunity of people in power.
Damien (played by Gehan Blok) is a red-blooded Colombo alpha-male prone to bouts of irrational jealousy. This jealous streak surfaces when he spots Gayan being just a little too familiar with Damien's ex-girlfriend. Damien convinces two willing accomplices that it would be a good idea to kidnap the hapless Gayan (played by Pasan Ranaweera) and take him to a nearby cemetery to teach him a lesson. His accomplices, Marlon and Rohan (played by Ryan Holsinger and Anoop Kapukotuwa), agree to this outlandish scheme and the plot unfolds throughout the duration of the short film.
The comical chaos which ensues and the all-male repartee in the short film will be portrayed in English. "I am determined to make it in the English that Sri Lankans speak – it's very Sri Lankan English. I feel that the way we speak has never been portrayed accurately on film and it feels very stunted when we have English dialogue which sounds as if it's been lifted from something else and is not natural," explains Prasad. With plans to shoot in mid-June, the short film features an electronic score with Sri Lankan influences. Prasanna Vithanage comes on board as producer and the film is billed to come to life through numerous collaborations.
One of the many things which set 'The Cemetery Men' apart, is the decision to crowdfund the project, putting it in the mercies of its potential audience. Crowdfunding refers to the process of funding a project with small amounts of money through the public instead of general investors. It provides the opportunity to rally likeminded people around a cause or project they would like to support while helping individuals showcase their work or passion to a larger audience. "I thought I would like take the whole film to the people who would eventually see it," says Prasad, explaining the decision to crowdfund the project. "For my first proper project, I would like the funding and support to come from my potential audience and it would also give a chance for people who would like to be a part of it and would be interested in supporting an artistic venture."
An incurable cinema buff, Prasad always knew he wanted to be a part of cinema in some way and is grateful for the people who have mentored and helped him along his way. A news reader and editor for 8 years, his foray into film was prompted by (in his own words) a mini mid-life crisis upon approaching 30 and a serendipitous leap of faith. He pauses to reminiscence about his first time on a set – a Sunsilk commercial in 2005 – and speaks about the potent feeling of being a part of the entire experience and the alchemy of watching the craft slowly unfurl. "It's the difference about reading about a car race, and actually being there," he says simply. Prasad's work experience spans assorted projects ranging from feature films to commercials and has worked with Oscar nominated directors such as Deepa Mehta on the sets of Midnight's children and Uberto Pasolini for Machan as well as well-known names such as Prasanna Vithanage.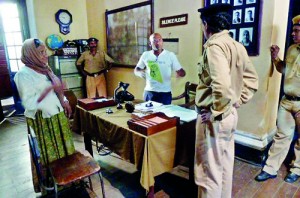 Which brings us to the crucial question – why should you support 'The Cemetery Men'? Prasad simply boils it down to two words: Intelligent entertainment. "I think Sri Lankan cinema is ready to go to the next step. We are ready to show that we can make interesting films that outside audiences can see as well. And to do this, it would be great if the actual audience itself would support it and help take Sri Lankan film into a bigger stage worldwide," says Prasad. He explains that like Iranian movies, Sri Lankan movies have a certain appeal and impact within the festival circuit and that it was time it slowly nudged itself into a commercial platform outside of the more obvious markets. "I'd like it [Sri Lankan cinema] to have a bigger appeal. Appealing to more global sensibilities would help Sri Lankan films and Sri Lankan talent to go outside of the box it is in at the moment. People who support it would be supporting something much bigger – they would be supporting a platform for Sri Lankan films to be internationally viable and interesting on a global scale." Prasad stresses on the elusive intersection between commercially viable cinema and artistic cinema and Sri Lanka's need for intelligent entertainment. The Cemetery Men is the first small step towards achieving this middle ground in Sri Lankan cinema while bridging the gap between art and entertainment and making the giant leap towards appealing to a wider demographic.