'Ayubowan' : A culinary journey through the Silk Route
View(s):

The cosmopolitan nature of Dubai, one of the world's cutting-edge and best travel destinations, is greatly reflected in the deliciously diverse cuisines and restaurants the city has to offer, amongst attractions like the Burj-Khalifa, Burj Al Arab, Deira Souks and Jumeira Beach, to name a few.

While the beautiful city collectively offers cuisines ranging from Middle Eastern to South East Asian to Chinese and Italian, the metropolitan seemed to lack a little touch of the 'Pearl of the Indian Ocean'. Upon this epiphany, a generous soul took matters to his hands to bring an end to the boundless search of authentic Sri Lankan food by the expats in Dubai. With over 35 years of experience in Sri Lankan and International cuisines at Galle Face and international hotels, Chef Sumanasiri embarked on a culinary journey through the silk route to establish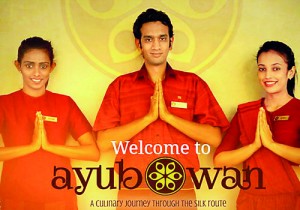 'Ayubowan'.
Located at the commercial hub of Dubai, Jumeirah Lake Towers, Ayubowan is a fine dining restaurant that offers the enchanting cuisine of Sri Lanka cooked up by Ayubowan's Kitchen Brigade of handpicked Sri Lankan chefs with various specialities, headed by Chef Sumane himself. Accompanying Chef Sumane in preparing the perfect recipe for the flawless Sri Lankan dining experience is Muditha, the Restaurant Manager and leader of the Ayubowan Crew who is a role model for Sri Lankan Hospitality with professional experience in the hospitality industry of Sri Lanka and Europe.
Remarking on this establishment, Muditha said 'Sri Lanka is a beautiful spice island that is rich in numerous clay pot cuisines. Being an outstanding tourist attraction, many cultures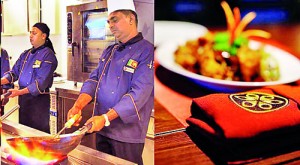 and nationalities have visited the pearl and have greatly enjoyed the numerous choices of enticing dishes of Sri Lanka along with the great views and historical artefacts. With this in mind and with the passion of spreading the Sri Lankan hospitality, we at Ayubowan aimed to pursue the dream of bringing Sri Lanka to the UAE to not only offer our fellow Sri Lankans
with food that reminded them of home, but to also offer expats and travellers in Dubai a one stop Sri Lankan experience with Ayubowan'.
Inspired by the history of the Silk Route that was central to cultural interactions and how Sri Lankan spices were popularly brought to the Middle East, the skilled duo aimed to cater to the demand of Authentic Sri Lankan cuisine served in a modern, chic setting with dashes of cinnamon fragrances, one of the Nation's oldest and most significant spices grown in the country. The ambience and setting of the authentic eatery brings foreign customers a feel of being in Sri Lanka and fellow Sri Lankans a sense of being home -away – from – home with supreme Sri Lankan delicacies served by a kind and friendly staff of Sri Lankans.