'The Yala Adventure'
By Sanath Weerasuriya
A different experience
View(s):
Ruhunu National Park or popularly known as 'Yala Sanctuary' is one of the top tourist destinations in South Sri Lanka. Arguably it is the best leopard sanctuary in Asia.
The Park has become the most sought after destination for both Sri Lankan and overseas visitors lately.
'The Yala Adventure' is situated on the banks of the breathtaking 'Yoda Wewa' in 'Weweyaya' off ancient Sithulpawwa road and just about 20 minutes away from the Yala Wildlife Sanctuary.
Spanning three acres of jungle and endless miles of Yoda wewa, 'The Yala Adventure' is truly a nature resort of untamed beauty and unmatched luxury.
The Yala Adventure is a collection of glamorous unique luxury tented accommodations to knit with the picturesque outdoors facing the Yoda Wewa.
The eco-friendly 'The Yala Adventure' resort is a favourite place for many wildlife enthusiasts who find its wild atmosphere ideally suited to unwind after a safari. The setting is unlike any other.
'The Yala Adventure' gives its guests a remarkable once in a life time experience with most luxurious camping facilities and modern room facilities with all modern amenities.
The Yala Adventure is surrounded by untouched nature. It offers a variety of outdoor activities and guests can enjoy bird watching and butterfly Garden on site.
It offers luxury tent living with three permanently built air conditioned tents and four superior rooms and two family rooms on the watch tower.
All tents are built facing Yoda Wewa. Two standard rooms with private balconies located in first and second floor of the tower .
'In our resort, guests can take a virtual green farm tour at own organic agriculture home garden .We provide them with organic vegetables and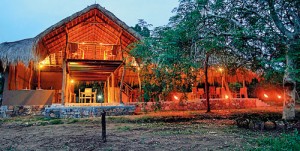 fruits as well as we encourage village farmers to practise organic farming by buying their products which also enhanced economic viability of villagers. While engaging to sustainable energy and water saving methods we exercise low impact to the environment and local culture' explained Chinthana Duminduhewa, the proprietor of the Resort.
'We at The Yala Adventure do not provide guests with only the accommodation and food, but also an array of activities which enable adventure lovers to get some value added to your stay at 'Yala Adventure'. Let it be a relaxing and mind blowing indoor activity' added Chinthana.
Adventure always stands for exciting and unusual experiences.
'We offer some exciting adventure activities during your stay with us. Our accommodation tower has become a platform for Rappelling and we offer this as a complementary activity for the guests who patronised 'The Yala Adventure' he said.
'Yala Adventure' offers some leisure outdoor activities for those who are keen on connecting with nature. Do engage in some concentrative leisure activities while simply Eco-friendly open air restaurant is truly a unique way to dine in. It is made out of wooden and thatched from one of a traditional grass 'Iluk'.
Captivating greenery surrounding, freshly drifted breeze and naked view of 'Yoda Wewa' is the first step for charming dines in.
'From our handicraft menus, you can choose to have harmonious blended traditional Sri Lankan foods, or some endemic indigenes cuisines to international fine dining with a bit of Sri Lankan touch. Fresh, locally grown ingredients make all the difference in your dining experience. In our kitchen we make sure to use organic and fresh ingredients from spices to main course. Most of them plucked from our own organic garden' Chinthana went on explaining.
Apart from cuisine and wildlife, excursions to surrounding areas are possible using Yala Village Hotel as the base. Bundala National Park (30 munutes drive), Palutupana Salterns (20 minutes drive), Kataragama/ Kirivehera (45 minutes), Kalametiya( two hours) and Uda Walawe (two hours drive} are some of the popular excursions.
Four of Lanka's most visited wildlife sanctuaries are within one hours reach. Yala is the closest and Buundala National Park and newly created Lunugamvehera also at close approximity. Uda Walawe is also about one hours drive.
At 'TheYala Adventure', you will find a 24-hour front desk, a garden and barbecue facilities. Other facilities offered at the property include water sports facilities, a tour desk and luggage storage. An array of activities can be enjoyed on site or in the surroundings, including cycling, fishing and hiking.
Offering hotel guests superior services and a broad range of amenities, The Yala Adventure Hotel is committed to ensuring that your stay is as comfortable as possible. While lodging at this wonderful property, guests can enjoy bicycle rental, laundry service, Wi-Fi in all areas, room service. Hotel accommodations have been carefully maintained to the highest degree of comfort and convenience.
The hotel offers an excellent variety of recreational facilities, including garden, fishing.
The room rate for Yala Adventure ranges from Rs 14,000/- (FBD) in deluxe superior rooms, Rs.13,500/ (FBD) for luxury tents and Rs 11,000/- for standard tower room (FBD).
For more details call 0773906666, 2454454 or 0777391740 or log onto www.theyalaadventure.lk
Pix by Neil Siriweera