Multi awarded play focuses on growing extremism
"Meya Thuwakkuwak Nowe" on May 17 at the Lionel Wendt Theatre
View(s):
The winner of seven awards including the Best Play, the Best script and the Best Direction at the State Theatre Festival 2015 "Meya Thuwakkuwak Nowe" (This is not a gun) written and directed by Chamila Priyanka will go on the boards at 3.30 pm and 7.00 pm on Sunday May 17 at the Lionel Wendt Theatre Colombo 7.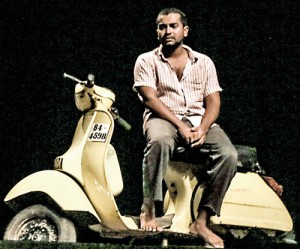 The play also won awards for the best stage designing, the best choreographer, the Best lighting and the best supporting actor and it was nominated for the Best actor.
The play revolves around a Buddhist monk who is looking to shed his robes leaving the monastic life. He has left the temple with a stolen scooter that he doesn't know how to ride. He crosses paths with a mad man rummaging in a pile of garbage, looking for a job. The two set off together, both believing the journey's taking them closer to their respective ideas of salvation.
A political science graduate from the Colombo University, Chamila is a young director introduced to the theatre by veteran dramatist Somalatha Subasinghe and the Children's and Youth Theatre Play House, Kotte where he worked with the veteran actress and playwright nearly 15 years. He made his directorial debut with a short play 'You & Me Alone' in 2006 after that directed 'Che and Juliet' short play in 2007 and 'Come To Play Cricket' short play. All these three plays won the awards in the State and Youth drama festivals.
"The play was my response to the increasing extremism that was taking shape in our surrounding and engulfed society not just ideologically but physically and dangerously," said Chamila speaking to the TV Times.
"Though ideologies, religious and racial extremist viewpoints can lead to physical levels when they are encouraged. For example a holding a opposing religious viewpoint which is ideological can lead to destroy a church or a mosque,".
"Specially after the war we saw that some sections of the Southern society filled with patriotism was lead to a division. This was partly lead by the existing ruling powers and this even lead to a feudal system where one class think that they are priviledged and superior. We saw that we are separating from other ethnic, racial and religious groups," the director said explaining what made him to make 'Maya Thuwakkuwak Nowe'.
The young playwright thinks that it is a challenged to take plays such as 'Meya Thuwakkuwak Nowe' to the outstation and a proper system should be introduced in this regard by the Cultural Ministry or other relevant state institution. "This message has to be gone to the villages," he said.
The play stars Mayura Kanchana, Dhilum Bhuddika, Anjana Premarathne, Yashodha Rasadhuni, Pramodh Edirisinghe and Kanishka Fernando.
Tickets are available at Lionel Wendt Theatre and all seats have been box planned.