Fashion for a cause
By Namali Premawardhana
The senior students of Elizabeth Moir School on fashion among rural youth
View(s):
Junior Prefects of the Elizabeth Moir Senior School hosted a fundraiser fashion/talent show at Park Street Mews recently. The event showcased designs by Sonali Dharmasekara, Ramona Pulle, LatikaAlok and accessories by the Salvage design team.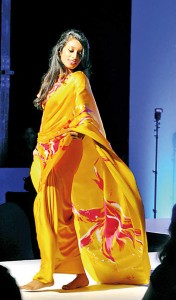 "We wanted to raise awareness about fashion among the rural youth of Sri Lanka," said one of the organizers, Tripti Mathews. "We realized that some of them wouldn't even think of fashion as a career, and we wanted to give them a way of considering it for the future."
The idea of having a fundraiser to support their peers in rural settings was Tripti's, but the actual fashion show was Ashfath Ifham's initial concept. "A lot of parents want their children to take traditional career paths, to become doctors and engineers," Ashfath explained. "We want to help them explore other options like design because there may be hidden talents and maybe one or two of them will follow their dream."
"We also wanted to do something exciting that would get the whole student body involved," she continued.
The show, organized and presented solely by the senior students of Elizabeth Moir, raised over Rs.200,000 which will go towards summer design camps and workshops for students from schools connected to and based around the Foundation for Goodness in Seenigama. They also hope to provide participants with equipment and other resources to continue practicing what they learn at the workshops.