Cartoon Network appoints 'Rainco' as local branding agent
By Sanath Weerasuriya
View(s):
Popular Cartoon Network CNE in Sri Lanka, together with Cartoon Network Enterprises South Asia launched its very first official branding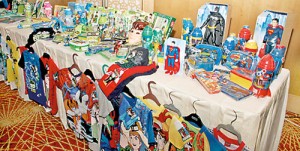 programme with Rainco Private Limited as the official representatives of their brands recently.
The popular cartoon brands such as 'Ben 10', 'Ben 10 Alien Force' and 'Powerpuff Girls' are being licensed under this project.
Rainco Limited conducted an awareness programme and media briefing regarding regional 'Warner Brothers licensing' (WBL) trends, the property portfolio on offer, the importance of licensing in Sri Lanka and the advantages of tying up with global brands for local manufacturers.
Rainco is a manufacturing and distribution organisation dealing in a wide range of personal care, home utility and decorative range of products. Producing Rainco umbrellas, mosquito nets and raincoats, which are brand leaders in South Asian region.
'We have been  representing Ben 10, Ben 10 Alien force, and Powerpuff girls,  and from this year we will add the following Warner brothers portfolio which includes Batman, Superman, Looney Tunes, Tom & Jerry, Scooby Doo, Mr. Bean and Music Art & Dance (MAD). It is our intention to grow the CNE business in Sri Lanka by leveraging these global icons through product and promotional licence' said MD Rainco, Fazal Fausz .
Brand Licensing Associates (BLA) which has been established as a separate division of Rainco, promotes all these global brands.
'It is a fully fledged division, which coordinates all transactions between the licensor and the licensee', explained Fausz .
At the event, industry experts shared their experiences on how they benefited from tying up with global brands, while there was an opportunity for those present to clarify any doubts they may have had about licensing.
He stressed the fact that BLA only offers the authentic product and promotional licence and that Rainco is the only representative in Sri Lanka who is authorised to sell this licence.
Anand Singh, Director, Cartoon Network Enterprises, South Asia, Turner International India Pvt. Ltd. said, 'Sri Lanka is an important market for Turner and we have been seeking partnerships to strengthen our foothold in it. With Rainco as our representative for our key franchises, we are confident of making headway in the market and fortifying our successes.
Cartoon Network Enterprises (CNE), a specialized licensing and merchandising division of Cartoon Network, works towards driving long-term value for the Network and its properties, and is responsible for setting up new businesses leveraging the equity of the characters via consumer products, promotional licencing, home videos, interactive games, publishing,  etc.