Why weren't these questions asked earlier?
By Marlon Fernandopulle
Reply to Pramodya allegations
View(s):
Former Sri Lanka Cricket Selector Pramodya Wickramasinghe has come out strongly and blamed Sri Lanka Cricket (SLC) for the country's lackluster performance at the recently concluded World Cup. We believe that Wickramasinghe is echoing the sentiments of the four-member selection panel who had Sanath Jayasuriya as its Chairman.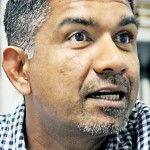 Wickramasinghe has faulted many persons including the coaching staff, Cricket Committee and the administrators of Sri Lanka Cricket (SLC). Accordingly most of these issues have happened quite early and during the tenure of Jayasuriya and Company. All, if not most of the issues per-se that are pin pointed by Wickramasinghe appear to be true.
However the questions that beg to be asked from Mr. Pramodya Wickramasinghe and his Co-selectors are: Were these issues brought up and taken up at the right forums? Were these issues officially informed to SLC in writing or e-mail? If so when was it informed? To whom was it informed? And why was it not addressed?
The Chairman of Selectors who is also a member of Parliament had the backing of the Minister of Sports and the ruling regime and there was nothing that could not have been done! (especially if it was going to do something good to Sri Lanka Cricket). The correct thing for Wickramasinghe and his Co-selectors to have done was to ensure that these issues which were rightly identified were addressed on time. If not, they (the selectors) should have taken it up at a higher level or at least come out strongly in the media and highlighted the inefficiencies of the SLC officials/Administrators/Committees who are guilty of not performing their tasks or who are a stumbling block towards the progress of the game! This is where the selectors have fallen short of their duty. May be they were aware that if they come out strongly against SLC they will be shown the door, which means they lose out on their positions along with whatever benefits that come along.
There is no purpose in exposing all these issues now and blaming every other person and committee at SLC. The 2015 World Cup is history now and Sri Lanka can put it down as another missed opportunity due to the greater love of material things rather than the love for the game by SLC (be it administrators, Cricket Committee, coaching staff or selectors!)