Hingis and Mirza Doubles saga
New Women's Doubles' world No. 1
View(s):
Martina Hingis was the former world's number one singles player from Switzerland. It is she who started the Swiss Tennis rolling nearly two decades ago towards its present success and then came Roger Federer. Sania Mirza was the top ranked player in India and had a well recognized world ranking.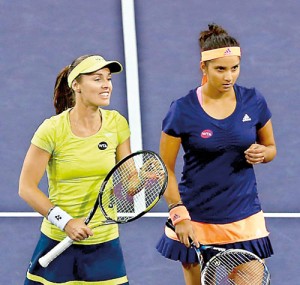 Many would also know her as the wife of a well known cricketer. Both these players do not have a good standing as singles players right now, however these two have achieved something to be recognized again. Hingis and Mirza combination has worked well as they joined to play competition doubles. Now they have climbed to the top to become the world's number one in doubles.
Doubles and mixed rescued
Very rarely does a singles Tennis career go beyond age 32. We have two exceptions right now. Serena Williams and Roger Federer both around 33 and are in the world's top five now. This is not common. Currently dominating doubles players, the Bryan brothers did play some singles but made doubles their mainstay. They are having a good run and right now I feel that they are good for another five years. They have had ten good years already. Men's doubles got a good boost through them. Their official career prize money today exceeds 24 million dollars and winning 107 titles. In the process they have elevated the status of global doubles events.
The change has made once 'deserted draws' of the women's and men's doubles events, now into demanding qualifying rounds to enter. This is a big change. Good names appearing in any draw fills the stadium courts to near full capacity. It was an issue for the organizing committees until very recently to include doubles in their events because of its low spectator rating. Not anymore. Doubles is now contributing to event's ratings positively. Mixed doubles has proved to be an even bigger attraction. Mixed became almost unknown when the two controlling bodies WTA and ATP did not have events in the same venue at the same time. This has been a negative side of the gender based professional bodies. It is reverting. In all probability, we are bound to see the old events' lineup very soon.
India's lead
Leander Paes and Mahesh Bhupathi of India had careers in singles. Although not very dominating, they were the best of Asia for a good while. To extend their career in competition Tennis, they played doubles together. They proved to be very good. They then split and now they play with different partners. Their Tennis career would have not come this far or be known to the world, if not for their success in the doubles arena.
Initially Sania Mirza joined them to play mixed-doubles and was very successful. There are fundamental changes a singles player has to go through to be a good doubles player. Mirza first got playing mixed doubles with Paes and Bhupathi. She then joined up with different players to play women's doubles too. It is probably here she found out her talent, capacity and skills for doubles exceeds that of her singles. Today Mirza is a well recognized doubles and mixed doubles player. Her recent partnership with Martina Hingis has boosted her status and they both surely complement each other to have achieved the world's number one position.
For a good while the speed of doubles shortened the rally and removed the spectator interest. Now more players are able to handle speed in doubles too and the rallies have become longer. This has made the game open to the last shot even in the early rounds of the doubles events, increasing spectator interest.
Player attraction for doubles
One of the strains of being a singles Tennis player is the stress of training. One has to experience this to know how tough it is. The continuous training at a high intensity is a big burden. Such training can initiates injuries that manifest inconveniently at the prime of the players careers. I am sure this is the cause of many inconsistent performances of good singles' Tennis players.
Doubles' halves this training burden and stress and this is most welcomed by players who have reached burnout levels playing singles. The modern format of competition in doubles has made the event less stressful to train. Most probably, I will be right in stating that Hingis and Mirza coming to this level would not have been possible, if not for the new format. I feel this new format tests players for skills and shows artistry to spectators. The older format tested players for repetitive endurance. The increase in appeal for doubles in the last two years shows something in the new format.
Tactically different
There are other aspects which make a good doubles' player. Doubles is a team event, therefore even when a player is not hitting the ball he/she has a role to play. Contributing to make the combination work, is considered the secret of success. This must be a reason why Hingis and Mirza are so successful. Doubles rallies are a short burst. Being so, I will be right in saying, tactically it is pretty much based on pre-set strategies. Let me also warn all who read this that it is not so always. Doubles demands all-position court play and not just baseline and net-play. This challenges to sense the court correctly in ever changing tight situations. The width of the court which is more than in singles has more tactical value than the length of the court and this is what makes doubles look different. With some exception, the best singles players are not the best doubles players. Doubles needs a different mindset.
Not a 'cake walk'
To get to be the world's number one in doubles, it has not been a cake-walk for Hingis and Mirza. For both, the challenge was to change. They came from an individual event and had to start thinking as a team. As singles players tactically both used the length of the court and in doubles it is the width which has more tactical value. That made shot selection another area of concern. Their shot selection had to accommodate the partner's position, ability and advantage. This demands knowing the partners comfort zones thoroughly. It is considered the toughest thing in doubles because the court is crowded with four and speed can go sky high. In singles, playing every shot keeps a player in rhythm. But in doubles, sometimes the opponents can keep a player dormant and suddenly attack him/her with a flash shot to force an error. This can cause real headaches to good players. Service and return of serve in doubles gives very narrow safe passage and second serve doubles is considered tactically of zero value, which causes severe stress on the first serve. In singles, the baseline and net are the dominant positions but in doubles, there is no such thing as fixed positions. Improvising to play from every part of the court is very necessary to survive. Martina Hingis and Sania Mirza have done well in all these areas to reach this point, especially Hingis who was out of competition for a decade. As for Asia after Li-Na, Sania has done the best in Tennis.
Popularity issue
I will not be surprised, if a 12 year old Swiss girl asks 'Who is Martina Hingis? It is amazing how fast good sportsmen are forgotten. The rule seems to be 'out of sight is out of mind.' In our information overloaded world, this is happening much faster than in the yester-years. Doubles is extending Tennis life of a player and the possibility to earn some extra money before retirement. By no means is it small money and may also help in etching out names of players on stone which otherwise would be forgotten. Martina Hingis and Sania Mirza will be known because of their singles and will be remembered because of their doubles.
-George Paldano, former international player; Accredited Coach of Germany, National coach, Davis Cup and Federation Cup Coach; ITF and USPTR; gptennis.ceylon@gmail.com-