Out of the red and into the wilderness
View(s):
My dear Somawansa sahodaraya,
I thought I must write to you when I heard you announcing that you were resigning from the party of the rathu sahodarayas. Having not heard from you for many months and believing that you had retired when Anura sahodaraya took over the leadership of your party, this came as quite a shock!
While we were at first taken by surprise by your sudden decision, sahodaraya, we are now confused. You say you have no disputes with the rathu sahodarayas but still you are leaving because you feel they are not heading in the right direction. You also say you want to form your own party.
Yet, the rathu sahodarayas are saying that they don't want you to leave them and that they want to talk to you about any differences of opinion you may have. Pardon me, sahodaraya, but it appears as if even the rathu sahodarayas were unaware of your resignation and your dissatisfaction with them!
Why, Vijitha sahodaraya who turned up at your press conference was in shock when he heard your announcement. Surely, sahodaraya, shouldn't you have discussed matters with your comrades beforehand? Or is it that this 'Yahapaalanaya' is making even the rathu sahodarayas confused?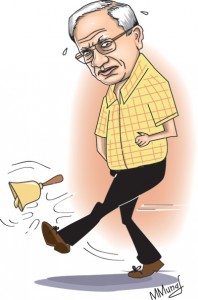 We have no reason to believe that you will betray the 'struggle' of the downtrodden, Somawansa sahodaraya, but already there is speculation that this is all the work of Mahinda maama. Now, everyone blames him for everything, just like they used to blame Ranil only a few months ago!
Anyway, Somawansa sahodaraya, I think most people would remember you as being the only survivor of the Old Guard of the rathu sahodarayas. You are probably the only person to have been actively involved in the insurgencies of 1971 and 1989 and yet lived to tell the tale.
That is of course, another story You fled the country and some say that you were able to do so only because you were related to the right hand man of then Boss who made a name for himself with the 'me kawda, mokada karanne' campaign. After all, you were his brother's wife's brother or massina!
You then remained in exile for twelve long years before deciding that it was safe for you to return to lead the rathu sahodarayas again. It is fortunate that the then government let bygones be bygones and didn't think of questioning you about all those killings in the early seventies and late eighties, isn't it?
To give credit where it is due, sahodaraya, you presided over the transformation of the rathu sahodarayas, changing it from a rag tag band of insurgents who believed that power comes from the barrel of a gun into an outfit that now believes in democracy and elections rather than revolutions.
They have certainly won a lot of respect because even as Members of Parliament, they ask probing questions and have not been tainted with allegations of corruption. Many think that Anura sahodaraya is a good leader because he seems so calm and supports his arguments with facts and figures.
Indeed, you had posed the question, Somawansa sahodaraya, why most people are fed up with both the Greens and the Blues and say 'unuth ekai munuth ekai' but when it comes to voting time at the elections, they don't vote for the Reds though they know that yours is the party that is least corrupt.
That is certainly something to think about, but I feel that may have something to do with your party's history as many believe it was responsible for the killing of thousands of youth in '71 and '89. Maybe it is also because it still keeps on proposing a socialist model, when most of the world had given it up.
Anyway, sahodaraya, I am not sure whether, at the age of seventy one, starting a new political party — instead of talking to your comrades — is the best thing to do. It is like Sanath ending his retirement, trying to make a comeback hoping to play in the next World Cup and expecting to win it!
But you could argue that Mahinda maama who is only two years younger than you is also trying to make a comeback while Vasu sahodaraya who is five years older than you is still battling on. Who knows, if you are too old and infirm, in keeping with tradition, you may become the Prime Minister!
We are all confused as to who the government is, who the opposition is and about who is corrupt and who is not corrupt, and one more ageing revolutionary wanting to stage a comeback will hardly make a difference, Somawansa sahodaraya, so we wish you well!
Yours truly,
Punchi Putha
PS: It is sad the 'wansas' and the rathu sahodarayas have a history of parting ways. First it was Weerawansa who broke away. Although that did a world of good to the rathu sahodarayas now you too have decided to go your own way. What is sadder still is that both of you will not earn even an honourable mention in the 'vansa' that really matters, the Mahavansa!