Inadequate export performance with undiversified export structure
View(s):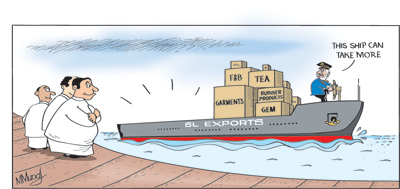 Despite high economic growth, the country's export performance has been inadequate in recent decades. Although the structure of exports changed from one of exporting primary agricultural commodities to a more diversified one in which manufactured exports are significant, manufactured exports are highly concentrated on garments.
The country's export performance and export structure are discussed today as a backdrop to next week's discussion on needed policies to enhance exports that are the best approach to narrow the trade deficit and strengthen the country's external finances. However it requires a wide range of policies that incentivise export growth.
Strengthening external finances
The last two columns pointed out that the country's external finances were weak owing to persistent large trade deficits and large foreign debt servicing costs. It was also pointed out that the nature and composition of imports offers little leeway to reduce imports by much. Fiscal and monetary policies and prudent public expenditure that constrain aggregate demand could check imports to some extent but the best option is that of increasing exports. Increasing exports could generate a significant balance of payments surplus that could be used to reduce the foreign debt.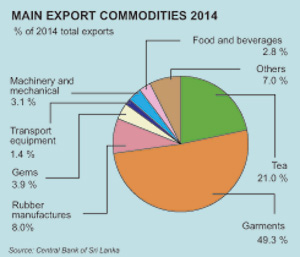 Export performance
Recent export performance has been inadequate to cushion increases in imports. Exports have declined as a proportion of GDP in the last few decades from as much as 30 per cent of GDP in 1970 to as low as 17 per cent in 2014. This declining ratio portends severe economic difficulties for an export-import economy.
Sri Lanka's trade performance in relation to the rest of the world that was on an increasing trend from the 1970s fell from a peak of around 2 per cent to as little as 0.6 percent of world trade. Although it is unrealistic to expect the country to hold its position at such a high level, as other Asian countries have expanded their trade by leaps and bounds, it is irrefutable that Sri Lanka's export performance could have been much better had it not turned to inward looking and import substitution strategies at the very time East and South East Asian countries were adopting an export-led polices.
Composition of exports
While manufactured exports account for 75 per cent of exports agricultural exports contribute 25 per cent of exports. The relative significance of these exports are somewhat distorted as industrial exports have a high import content unlike agricultural exports. On average, manufactured exports have an import content of about 65 per cent. Therefore the net export earnings adjusted for their import content would indicate a higher importance for agricultural exports.
Industrial exports
Industrial exports are highly concentrated in a few items, most notably garments. In 2014, garments exports were nearly 50 per cent (49.3 per cent) of total exports and as much as two thirds of all industrial exports. Rubber manufactures constitute 8 per cent, gems 3.9 per cent and machinery and equipment 3 per cent. Among the other items of industrial exports were transport equipment, food and beverages. Unspecified items contributed about 7 per cent of total exports.
The high concentration on garments exports make exports vulnerable to demand conditions and trade restrictions in western countries to which most of these are exported. Recent experience of the EU countries withdrawing the GSP plus concession and imposing a restriction on fish imports are instances of such vulnerability. Fortunately the Government has taken steps to restore these through friendlier relations and changes in domestic policies.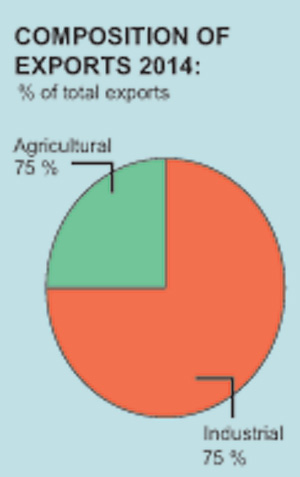 No comparative advantage
The high concentration in exports is due to our having a comparative advantage only in these, while there are constraints on other exports. These constraints should be eliminated by removing trade, investment and other barriers to the expansion of their exports. Furthermore it needs to be emphasised that exports having high import content is not bad. In fact Sri Lanka's exports of manufactures will continue to have large import content as the country's raw material resource base is narrow.
Even though our exports have high import content, the volume of exports could be increased in those to yield high export incomes. In today's world most exports are based on imported raw materials, imported components as in the manufacture of computers, mobile and IPhones and most industrial manufactures.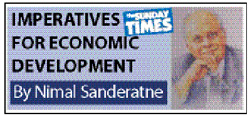 Chinese exports
A telling example is that of China's exports of IPhones where domestic value added is only 3.2 per cent but it exports US$ 9 billion in IPhones. What is important is to have comparative advantage in a wide range of exportable commodities rather than high value added. The limited range of manufactured exports is indicative of a lack of comparative advantage in manufactures.
Agricultural exports
Agricultural exports too are highly concentrated on tea that constitutes more than 70 per cent of agricultural exports. Other agricultural exports include coconut, seafood, spices and minor agricultural products. Rubber that was an important export commodity is no longer so as rubber is largely used in value added manufactures and consequently there is hardly an exportable surplus. The sluggishness of rubber production, as well as of other exportable crops, over recent decades is another factor for reducing the exportable surplus of rubber and agricultural produce. The export performance in spices and minor agricultural exports has been disappointing mainly due to this.
Export markets
Sri Lanka's export markets for manufactures in particular are concentrated in a few regions. As much as 31per cent of exports are to the EU while 25 per cent is to the United States. Export markets for manufactured goods are to a few areas and countries in Western Europe and the US. The diversification of both export commodities and markets are essential though not easy to achieve.
Conclusion
The country's export performance has been inadequate in recent decades. Consequently there have been large trade deficits that have weakened the external finances. Although there has been a diversification of exports in that agricultural exports are of a lesser significance and manufactures have gained in importance, exports are concentrated in a few commodities. Manufactured exports are highly concentrated on garments owing to a lack of comparative advantage in a wider range of commodities.
Boosting exports would require a wide range of macroeconomic and microeconomic policies that would be discussed next week.