Strict enforcement of road traffic regulations soon
Lane discipline, displaying correct turning signals vital
View(s):
The Police have strictly implemented road traffic regulations for a week in a few areas in Colombo as a pilot project before they are implemented islandwide.
Around 2,500 drivers have been fined and legal action taken just five days into the implementation of the pilot project.
The pilot project was implemented from April 6 to 10 on five main roads – Moratuwa to Galle Face on Galle Road, Kollupitiya to Bambalapitiya on Duplication Road, Senanayake Junction, Borella to Polduwa Junction on the Sri Jayawardanapura Road, Peliyagoda to Kiribathgoda on the Kandy Road and Peliyagoda to Wattala on the Negombo Road.
Police Media Spokesperson ASP Ruwan Gunasekara stressed those regulations are being strictly implemented in other urban areas and on main roads islandwide from last Friday.
According to these regulations heavy vehicles, short distance buses and three-wheelers should use only the left traffic lane on the road. Long distance buses should use the same lane unless they can use the very next traffic lane on the right when it is free. Other vehicles including motor cycles can use any traffic lane even though they will not be allowed to change lanes on their own determination.
ASP Ruwan Gunasekara said that the police will first further observe the frequency of bus drivers stopping their vehicles across traffic lanes.
Every vehicle should display the correct signal when turning left or right. A vehicle in the left traffic lane cannot turn suddenly to the right side. It should move gradually to the right traffic lane within a distance of 20-50 metres before taking the turn. Motorists will not be allowed to cross the stop lines marked near traffic lights and pedestrian crossings.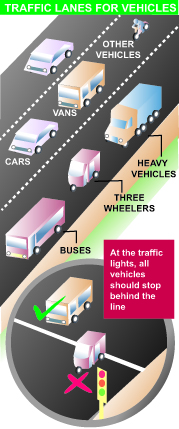 Offences such as using the wrong traffic lane are liable to a fine and cases will be filed under the Motor Traffic Act against reckless drivers breaking other traffic regulations. Driving licences will also be suspended depending on the nature of the offence.ASP Gunasekara said that observance of traffic regulations would reduce accidents and decrease traffic congestion in urban areas.
Drivers complain that the police did not create awareness on the new regulations. However, Police said they have conducted awareness programmes on traffic laws through electronic and print media before strictly implementing them. The ASP stressed that the regulations are not newly implemented but are already there in the Motor Traffic Act in 1951.
Traffic police officers also complain about difficulties faced while carrying out their duties especially in the Colombo city where the traffic lane laws cannot be implemented on all roads.
"The junction where Duplication Road and Bauddhaloka Mawatha meet at Bambalapitiya is one such place. Vehicles on Galle Road proceeding from Davidson Lane on the right should move three lanes within a distance of 5-10 metres to take a turn to the left. There is not enough distance to shift lane by lane as stipulated by traffic lane laws, said one duty Police officer.
Also some drivers are confused by the traffic lane laws since some roads have been made one way by the Police.
ASP Gunasekara said that the changes identified by the pilot project will be implemented in the near future.
The Police Department is also planning to give a special training to Traffic Police officers on regulations applicable to carriageways, the ASP said.