Killers knew family moves in precision slaying of SI
By Nadia Fazlulhaq
Wife screams over corpse on blood-soaked pillows
View(s):
Police believe at least two criminals crept in through an unlocked upstair door and, working swiftly and precisely in the dark, slashed the throat
of a veteran crime-fighting cop who survived two previous attacks.
The suspected murder weapon, an 18-inch manna knife found in a garden only 100m away by a sniffer dog, is being analysed.
Five teams are deployed in and around the Bekkegama area in Panadura South looking for the killers who slit the throat of Sub-Inspector Ruwan Wijeyapala Wijeyawardena Palihawadane while he was asleep.
SI Palihawadane, 53, father of two schoolgoing children, was the Prosecution Officer of the Bandaragama police.
"It is clearly an organised crime involving at least two criminals who entered the house," Superintendent of Police of Panadura Division Saman Ratnayake said.
"The victim had no time to struggle or fight back. The bed's mosquito net was raised before the attackers slit his throat," he said.
"Scene-of-crime officers have found hair samples," SP Ratnayake revealed.
A sniffer dog led investigators to the upper floor of the house, and police believe the killers entered through an unlocked upstair door.
SI Palihawadane was found dead, his pillows soaked in blood, when his wife came to wake him at about 4:30am on Monday (April 6).
"I felt my legs going numb. I screamed at the sight of my husband killed," the distraught wife said.
"I sleep with the sons in the adjoining room as he comes in late some nights. I heard him coming at about 10.30pm [on April 5]." The couple's two sons are aged 11 and 13 years. The family has requested that the names of the wife and children be withheld.
She said through her husband's work "a number of suspects involved in murder and narcotic dealing have been brought to book".
SI Palihawardane began his career as a police officer in Matara and served in many areas including Panadura-Anti Vice, the Modera post in Mount Lavinia, Angulana, and Kalutara. He had been in the Bandaragama post for just three months.
The officer suffered two previous attacks, including one in which he sustained severe cut wounds during a musical show in the Kovilgodella area in Panadura while attached to the Modera post.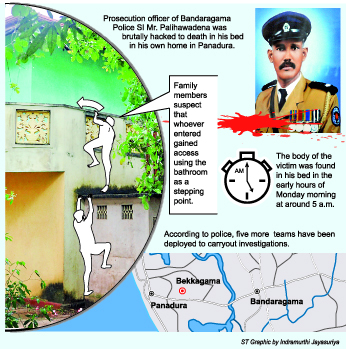 The court verdict against the four attackers in that incident came down in January, SP Ratnayake said. They were each ordered to pay Rs. 200,000. The Sunday Times learns the compensation has not yet been paid.
Family members and neighbours claim the house has been closely watched or that someone close to the police officer's family gave information as Monday's murder took place while two young adults who normally live in the house – a university student and a working youth, children of SI Palihawardana's siblings – had been away in their hometowns.
"The suspects knew which doors did not have locks, and which room he slept in, to raise a mosquito net and kill using a sharp object in the dark. Killing an enforcement officer carries a risk as the officer might know self-defence or have a weapon," a relative told the Sunday Times.
Some residents said a personal dispute could have led to the killing as the police officer owned several shops and lands nearby. Police, however, said they had not found evidence of a personal dispute that could have led to the killing.
Panadura Chief Magistrate Additional District Judge Ruchira Weliwatte conducted the magisterial inquiry and has ordered a swift investigation by the Criminal Investigation Department (CID).