Chapter closes on writer, journalist Gamini Punchihewa (83)
View(s):

Veteran author and journalist Gamini G. Punchihewa passed away yesterday. He was 83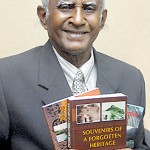 A past pupil of Mahinda College, Galle and Prince of Wales College, Moratuwa, Mr. Punchihewa served on the Gal Oya Development Board and the Mahaweli Authority of Sri Lanka, and then embarked on his journalistic career in 1962.
Over the past 50 years, he has written a number of articles on Sri Lanka's ancient civilizations and its wildlife, in addition to seven books.
The first was "Souvenirs of a Forgotten Heritage", followed by "Vignettes of Far off Things", "Animals Far and Near", "The History and Legend of the Great Sandy River", "The Lost Medieval Kingdom of the Lion King", "Splendours of Ruhuna's Heritage" and "Kelani Ganga Flows with History".His remains lie at 42, Hospital Road, New Town, Embilipitiya. The funeral takes place on Monday.