Visually impaired Prasanna sees future with 'Vision'
By Sanath Weerasuriya
View(s):
'Gee Neth Sathsara Vindanaya' a musical extravaganza featuring visually impaired Prasanna Wickramasingha and his band 'Vision', will come alive at the Namel Malani Punchi Theatre, Borella at 6.00 pm on the 26th of April.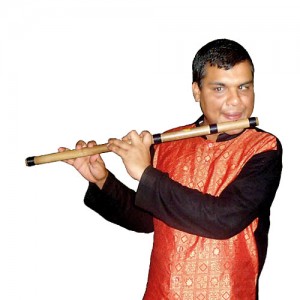 Vision music band is a group of five young members, led by Prasanna Wickramasingha, who founded it. All five members of the Band are totally vision impaired. The Band has been featured on the ITN Channel and he has been participating in several chat and live shows during the past years organised by the popular TV broadcasters, in Sri Lanka.
The ' Vision' band comprises of leader Prasanna on flute, Chandana Sampath on keyboards, Lalith Priyanka on dolki, Sumedha Bandara on octapad and M. Chularatne on guitar.
The show is oraganised by well known businessman engineer Raj de Silva and the proceedings from this musical show will be channeled to finish the partly constructed house for Prasanna.
It was a chance meeting, at the Hotel Topaz, in Kandy, when Raj De Silva met Prasanna, in 2002. That evening, Prasanna was playing his flute to entertain the diners at the hotel. Raj and his wife Visaka, who were resident in the UK, at the time, were in Sri Lanka, on holiday with the family and happened to be among the hotel guests.
Impressed by Prasanna's musical talent, level of intelligence and perseverance, the couple started sending him money every month by direct debit. Prasanna confesses that the financial help became very useful, as he was unemployed during that time. The money had been carefully channelled towards partial construction of his house foundation and recording of a few of his own songs written and sung by himself.
Prasanna's aim is to produce a music CD of his own, one day. He had endured pain and hardship through difficult times and is gainfully employed now.
'We have been featured on several television shows and performed in musical concerts organised by the 'Visually Handicapped organisation of the Central Province'. My main aim is to complete my partly built home and to work on my maiden CD project. I have to gratefull for Mr. Raj de Silva for helping me in everything in my life and finally organising this fund raiser musical evening ' said Prasanna.
Although handicapped, he has achieved, through sheer hard work and dedication, what many would strive hard to achieve. Prasanna has been winning various awards for his outstanding contribution to music at school, university and subsequent careers.
Prasanna obtained a BA degree and Diploma in Psychology and is a teacher by profession. He is a good speaker and has been campaigning untiringly to support the vision impaired fraternity. His service, in this respect has been invaluable.
In continuing their support, Raj and his wife decided to organise this charity musical event, 'Gee Neth Sathsara Vindanaya', to be held at the Namel Malani Punchi Theatre, on Sunday, 26th April.
Due to limited seating capacity, admission for the show will be by invitation only. The show will mainly feature Prasanna's Vision Music Band. There will also be traditional dance performances by Piyathma Devasirie, who is a very talented young dancer and a mime show by the young mime artiste Chandika Beligetamulla. All donations for this show will be handed over to Prasanna, at the end of the show.
For more details call Prasanna on 0718072179