New Imperial Cinema, Kurunegala goes 3D
View(s):

New Imperial Cinema in Kurunegala has transformed from its traditional film exhibition system to 3D and 2D Digital Cinema Projection System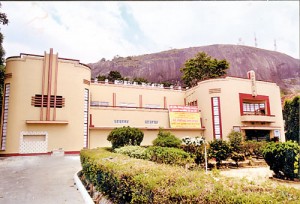 (2K) and is the first movie theatre to install Digital Projection System in the North Western Province.
At present the Hollywood film makers have suspended the 35mm transfer format into Digital (DCP) format of their films and cannot screen these films with the existing 35mm projectors unless they transformed into the Digital Facility.
New Imperial Cinema, Kurunegala installed the best Digital Projector "CHRISTIE" imported directly from United States with QSC Amplifiers and the Silver Screen for 3D and 2D facility and opened for public screening from April 2 with the worldwide release 3D film "Fast and Furious 7". The management has decided to offer a mix of films for the audiences at different show times. There will be four shows daily for the convenience of the public who are coming to Kurunegala from far and the new show times will be 10.30 am, 1.15 pm, 4.15pm and 7.00 pm. Film fans in Kurunegala can view the currently screening movie trailers and up coming movie trailers and show times at www.facebook.com/New Imperial Theatre Kurunegala.
Involved in the show-biz since 1910, the late Hans Andreas Van Starrex, founder of the Company started working with a Polish gentleman, who had a Projector showing silent movies. With the start of World War I, the Pole had to leave Ceylon then, and Mr. Van Starrex bought the Projector from him and went into business himself.
The present proprietor, Mr. Hans Anton Van Starrex took over the business at the age of 19 after the demise of his father and continued to expand the network acquiring many properties in the outstations and in Colombo. During this period Mr. Van Starrex had contributed towards the film "Thevatha" by veteran film maker Titus Thotawatte.