Maiden Passion play in Madampella
View(s):

"Mama Pipasa Wemi' (I Thurst) a passion play– a theatrical performance highlighting the Jesus Christ's life, suffering and death–was staged for the first time in Madampella, Negombo on the Good Friday.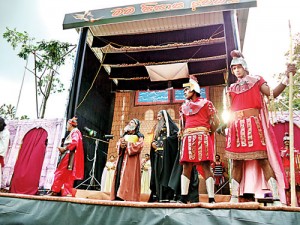 Under the guidance of Parish priest Rev. Fr. Laknath Coorey, the Passion play was organised by the parishioners of St. Santhiago Church, Madampella and over 150 actors and actresses from the village participated.
Scripted and directed by Sisira Jayashantha who has directed number of plays that entered National Youth Drama Festival, the play highlighted many biblical incidents including the original sin, fall of the mankind and life of Jesus and his passion and death.
Madhushan Wickremarachchi played the role of Jesus Christ, Hansani de Silva (Mother Mary), Wasantha Dangalle (Pontius Pilate), Amal Shirantha (Judas), Thusitha Nilantha (Caiaphas) played in the main cast.
Isuru Chamara directed the choreography while music was directed by Sulochana Rajapaksa. In addition to religious importance, the passion play played significant cultural role as it comprised of traditional singing like 'Passam' and 'Lathoni'.