Mahesh makes 'Avurudu Kumariya' theme song for fifth year
View(s):

For the fifth consecutive year Mahesh Jayawardena, a talented young musician has been selected to compose and sing the theme song of National Rupavahini's Sinhala Avurudu Kumariya (Beauty Queen Pageant) competition.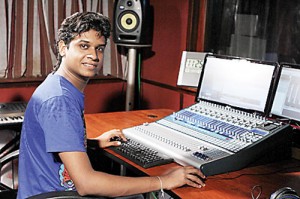 A student of Asoka College and Ananda College Colombo, Mahesh has been interested in music at young age and has won many awards at all island and school compeititions. His maiden song 'Kavikari' which he himself composed and sung topped the television and radio hit charts in 2005. 'Hamuwuna' (Hithuwewath Nethi Dawasaka) which is composed and sung to the lyrics of Prageeth Wijesuirya too became a hit on television and radio charts remaining in the first place for a long time. He released his first song album in 2008 under Maharaja label.
To the lyrics of welknown lyricist Nilar N. Cassim, Mahes created his first theme song for the 'Avurudu Kumariya' programme and since then he had created the theme song for the said programme for five consecutive years.
Mahesh also set the music for theme song for the Poppy Day in Sri Lanka titled 'Poppy Malak' and it was sung by 27 singers including Amerasiri Peiries, Edward Jayakody, Keethi Pasquel, T. M. Jayaratne, Latha Walpola, Bathiya and Santhush. The lyrics for the said song was set by Anton J. Fernando.
Mahesh is also to direct playback music for Suneth Malinga Lokuhewa's latest film 'Thun Warak Thuna' and its songs while he has composed music for the song 'Weerayo Api' in Lokuhewa's other new film 'Surangana Lowin Evilla'. Mahesh also has composed music for a number of advertisement.
Presently he served as a lecturer and coordinator at the Media Faculty of Aquinas University College. He was grateful to Rev. Fr. Benedict Joseph and Anton J. Fernando who their support in his endeavour. For new compositions he can be contacted on 0715320555.