Insurgent;Power struggle in post-apocalyptic Chicago
View(s):

'Insurgent' Hollywood sci-fi film based on Insurgent, the second book in the Divergent trilogy, written by Veronica Roth is now being screened at Majestic Gold cinema, Bambalapitiya.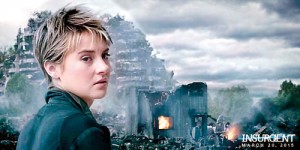 Directed by Robert Schwentke, the film stars Shailene Woodley, Ansel Elgort and Theo James in the stellar cast. Along with the first film's returning cast, the sequel features supporting actors Octavia Spencer, Naomi Watts, Suki Waterhouse, Rosa Salazar, Daniel Dae Kim, Jonny Weston, Emjay Anthony, and Keiynan Lonsdale.
Continuing from the sequel to the 2014 film Divergent and the second installment in The Divergent Series, the film shows how Beatrice Prior must confront her inner demons and continue her fight against a powerful alliance which threatens to tear her society apart with the help from others on her side.
The plot of 'Insurgent' takes place three days after the previous installment and continues to follow Tris Prior; Tris and Four are on the run after evading a hostile takeover from Jeanine and the rest of Erudite. The faction system in post-apocalyptic Chicago is crumbling, and everyone is desperate for power — and answers.
Now on the run from Jeanine (Kate Winslet) and the rest of the power-hungry Erudites, Tris (Shailene Woodley) and Four (Theo James) search for allies and answers in the ruins of Chicago. They must find out what Tris' family sacrificed their lives to protect and why the Erudites will do anything to stop them. Side by side, Tris and Four face one seemingly insurmountable challenge after another, as they unravel the secrets of the past and — ultimately — the future of their world.