Defence headquarters for fresh tenders
View(s):

The Akuregoda-based Defence Headquarters project that was recently stalled will be calling for fresh tenders with the cancellation of the existing contract.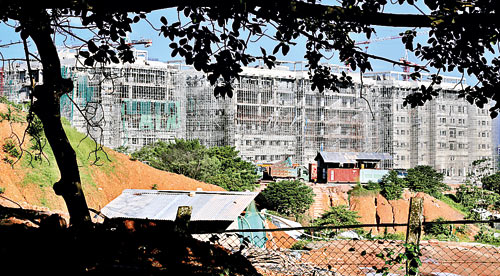 Defence State Minister Ruwan Wijewardena responding to a query at the American Chamber of Commerce of Sri Lanka (AMCHAM) business forum on Wednesday in Colombo said the government would cancel the contract and call for fresh tenders for the project due to malpractices identified.
The project currently under investigation for malpractices in obtaining materials was said to have obtained cabinet approval costing a total of Rs.20 billion, he said. However it was noted that the first phase of the project itself was costing Rs.42 billion and by the third phase the government would have to spend over Rs.50 billion.
Mr. Wijewardena noted that the the former Defence Secretary had given the supply of materials on an ad hoc basis to various parties.
In this regard, he pointed out that Prime Minister Ranil Wickremesinghe and Finance Minister Ravi Karunanayake were working on how to continue with this project.