Letters
View(s):

Despite CB directive, 15% interest scheme in shambles

The Government's 15 per cent interest for deposits of senior citizens continues to raise serious issues due to a lack of communication between the Central Bank and commercial banks.

When I went to the Commercial Bank branch at Athurugiriya on Tuesday, they said they have not received proper instructions as yet on this scheme. Thus my deposit of Rs. 500,000 is still maintained at 11.39 per cent when I should be getting 15 per cent as per Government directive of anything upto Rs 1 million.

There is utter chaos in this scheme. Rather than settle these issues the Central Bank Governor Arjuna Mahendran appears to be flying all around the world!

Dear Mr. Editor, please assist us to get the interest rate that we are legally entitled to.

Lakshman de silva
Senior citizen

Finally I get my due 15% interest

I wish to thank you sincerely for publishing my e-mail letter addressed to you which appeared in the Business Times last week. I also wish to thank you for all your efforts taken to get this matter clarified from the authorities concerned. I have now been able to open a fixed deposit at 15 per cent applicable to all senior citizens.

Ranjith Senewiratne
Dehiwela

Confusion continues over 15% scheme

Who is fooling whom: Both the Central Bank and the Sri Lankan Bankers Association are taking senior citizens for a ride by not following the Budget Proposals.

The UPFA budget before the elections proposed to give the senior citizens an interest rate of 12 per cent on a deposit upto Rs.1 million as senior citizens were demanding an increase. The interest rate had gone down to 6 per cent from 12 to 15 per cent. Then the Maithri-manifesto during the election spoke of offering 15 per cent.

Thereafter the Mahinda Rajapaksa-government, in order to count the higher proposal, increased the Rs. 1 million to Rs. 2.5 million.
Nowhere in the budget speeches, does it state that the rate is to be given only to persons having less than Rs.1 million in deposits in the bank. If this is what the governments meant, then one could say this rate is only for paupers, who have small deposits totalling less than Rs.1 million in all banks. If this is what was meant it would mean that a person having one rupee more than Rs. 1 million in total fixed deposits would not get this higher rate. This is an absurd situation.

It is clear from the budget speech that what was meant was that a senior citizen could get an interest of 15 per cent (or 12 per cent earlier) on a deposit up to Rs.1 million irrespective of the total deposits he or she has in the banks.

Senior citizens who are struggling to keep the home fires burning despite heavy medical bills are hoping that the budget proposal will be given effect to. One now wonders whether the "Yahapalanaya" is not in operation for the Central Bank. The amount involved is a very small amount, but at least it gives some relief.

Senior citizens expect the President to instruct the Central Bank to withdraw the present instruction and give effect to the budget proposal based on his election manifesto.
L.I. Perera

Confusion worse
confounded on senior citizens' interest rates

At the outset I wish to thank the Business Times for consistently focusing attention and taking interest in the welfare of the senior citizens. All of us are put into great inconvenience and confusion with regard to our interest earnings on fixed deposit.

The interest rates applicable on fixed deposits at the government banks like National Savings Bank (NSB) and Bank of Ceylon (BOC) was 8 per cent per annum prior to introduction of 12 per cent. There was no confusion though the interest was woefully inadequate.

In view of our repeated appeals supported by your newspaper, the rate was increased to 12 per cent per annum, by the previous government.
However, the confusion started with the 12 per cent interest indicated in the budget in October 2014. In January 2015, when the senior citizens visited these banks, during the first week of January 2015, we were informed that the 12 per cent is limited to Rs. 2.5 million only for an individual and no joint accounts are permitted, even for husbands and wives who were already maintaining a joint account. However, we were permitted to convert the joint accounts to separate individual account under the above condition (12 per cent on a maximum amount of Rs. 2.5 million each)
It is not known as to why the Central Bank insisted on separating the Old Loving Couple. Nevertheless, we complied with heavy hearts as we had no other alternative.

Then 15 per cent was introduced by the new government. But the fixed deposit amount was reduced to Rs. 1 million only per individual, thus reducing the earnings to Rs.150, 000 from Rs.300,000 per annum. Here too, no joint accounts or any additional fixed deposits were possible at the NSB. But the BOC stated that we can maintain additional fixed deposits at 8 per cent. I wonder why this confusion? This position prevailed during the 1st week of March 2015. I am unaware of any changes thereafter.

You will note that the new rate of 15 per cent could earn only Rs. 150,000 annually as against Rs.300,000 at 12 per cent on Rs.2. 5 million. This is downright cheating.

As it is, the new Government's sincerity is in doubt. It appears that they are playing a political game. Senior citizens are too sharp for this.
I am aware, that the private banks got jittery, fearing that deposits with them will be withdrawn. I am inclined to believe they have contributed toward this confusion despite their profits amounting to billions, as recently reported in the press.

Merely stating that they are a "Partner in Progress" and a "Bank with a Heart" will not suffice. They should be 'Progressive Partners' with a 'Bleeding Heart towards the senior citizens'.

Very Senior Citizen
Colombo

Billion dollar questions on Port City

1. Who suggested the building of a colossal Port City in Colombo when the country was up to its neck in debt to the Chinese?

2. If it was the Chinese, why did the Rajapaksa Government blindly agree without the consent of parliament which is the representative of the people?

3. Who computed the costs to be US$1,400,000,000 or Rs.186,361,000,000?

4. Were the commissions and cutbacks so attractive to the Rajapaksa Government to sign blindly an agreement to give China 30 hectares (75 acres) of freehold land and 90 hectares (225 acres) which could be considered unpatriotic?

5. Why are the ministers who were in ex-President Mahinda Rajapaksa's Government silent on this issue?

D.L. Sirimanne,
Kohuwela.

Plight of CIFL investors

The plight of investors, many who are retirees, is deplorable in that their honest, hard-earned earnings have been misappropriated by a ruthless gang of white collar thieves.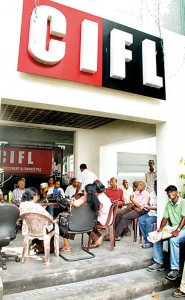 They seem to have committed this crime with the collaboration of one or more high level staffers of the Central Bank. The investors were quite confident that their earnings were in safe hands in that, the Central Bank regularly published notifications in the media listing the names of all Finance companies under their aegis. The CIFL was certainly one of those listed.
These middle and lower middle class investors got the shock of their lives approximately three years ago when they did not receive their annual/monthly interest. In their desperation they attempted to withdraw their capital and realised that the scum who had designated themselves as directors had vanished into thin air. These depositors formed themselves into a group and requested the former Governor of the Central Bank, Ajith Nivard Cabraal to intervene and sort out the problem for which he and his staff were also responsible.
I read in the media where the former Governor like the bibilical Pontious Pilate attempted to "wash his hands" stating that the investors should have been diligent by examining the balance sheet of the CIFL. This is a rather moronic attitude in that the organisation he headed should have in the first instance perused the balance sheet prior to boldly stating that the company was under their aegis. Furthermore, he must have been having his "head in the clouds" when he stated that the investors should have virtually done a due diligence prior to investing. Surely a person who invests a couple of One Hundred Thousand Rupees has no realistic access to a company balance sheet. As a matter of fact even if the person had seen such a document he may not have the financial acumen to interpret it. The problem is further compounded if proficiency in English is inadequate in that the document was in English.
Suggested Solution
Even though the Government has changed and presumably some internal transfers in the Central Bank has been carried out it has a responsibility to appease the woes of its citizens which were caused not only by white collar criminals but also negligent and perhaps collusion of persons in the higher echelons of the Central Bank.
In the past 60 days the public has been constantly appraised that "Billions of Dollars/Rupees have been stacked in safe havens" by very high ranking persons of the previous Government. We are told that it is a matter of fairly short time that these will be traced and brought back to Sri Lanka. We are also told that there is a substantial amount of "black money" hoarded in the country by some of these unscrupulous politicos and their cronies.
The total amount due to the ageing investors of CIFL is a few billion rupees. Pending collection of this so designated ill-gotten wealth of the previous regime it will be a great gesture if the hard earned honest funds of the unfortunate investors are refunded from Government coffers which obviously will be set off when the ill gotten gains presently in tax havens and locally are recovered.
It is reiterated that the investors were not responsible for the collapse of CIFL. The fault as indicated by me lies elsewhere.
A.B. SOSA, Air Vice Marshal (retired)