Helmet ban causes outcry over rider safety
By Chamal Weerakkody
View(s):
The police decision to impose a ban on full-face helmets to prevent bank robberies has drawn protests from motorcyclists who fear their safety will be in jeopardy.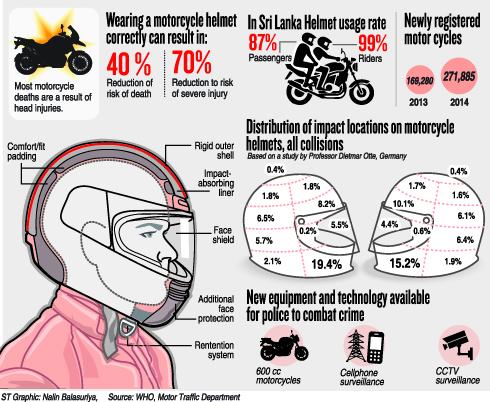 Motorcycles are the transport mode of choice among working class people in rural and urban areas.
As many as 30,011 motorcycles were registered in January, according to statistics from the Department of Motor Traffic. Last year, 271,885 bikes were registered, up from 169,280 in 2013.
The re-implementation of the police regulation, first imposed in 2013 on tinted visors on helmets and withdrawn under protest from motorcycle groups, will prohibit helmets covering the face between eyebrows and the chin (full-face helmets) following recent crimes by gangs wearing these helmets to foil chances of being identified.
A.K. Chamith Aruna, 27, who travels by bike from Moratuwa to Colombo for work said according to company safety policy he has to wear a full-face helmet and jacket to protect himself from various health issues since he has to be in the field throughout the day.
He criticised police for not using existing laws efficiently to identify and apprehend robbers wearing full-face helmets, saying the new regulations
compelled motorcyclists to buy new helmets regardless of their economic circumstances.
"I was involved in a major road accident recently and I was able to save my life, suffering just a broken leg, owing to wearing a full-face helmet. I had a bruise and blood had gone into one of my eyes but there were only a few injuries on my face," Mr. Chamith Aruna said.
Another motorcyclist, K. Thilina Helaruwan, 20, from Dehiwela, said many motorcyclists preferred full-face helmets for protection and to shield themselves from sun glare, dust, and vehicle emissions that damage health.
"I have to travel around Colombo as part of my work, so I would be on the road for most of the time which exposes me to many environmental hazards, especially air pollution," said Mr. Helaruwan.
"I need the full-face helmet to carry out my responsibilities to make a living."
Retired teacher E. Perera, 61, praised the police for taking prompt action to avert robberies and murders but said the re-introduced law violated the fundamental right of motorcyclists to wear appropriate gear.
"The police should consider and take action that will not affect the rights of the people," Ms. Perera said.
Dr. T. Sivakumar, Head of the Department of Transport and Logistics at the University of Moratuwa, said banning full-face helmets would put the safety of motorcyclists at risk, pointing out that accidents involving motorcycles have been increasing in recent years.According to Colombo National Hospital records, 905 of the 2,413 people killed in road accidents last year were motorcyclists.
Dr. Sivakumar said that full-face helmets provide additional protection in an accident because it would protect the front of the rider's head from grievous injury. He said the tinted visor allows better vision without blinding riders from the sun's rays.
Colombo National Hospital Director Dr. Anil Jayasinghe pointed out that the safety of motorcyclists depended solely on the structure, quality and standard of the helmet as motorcycles are regarded as one of the most vulnerable modes of transport.
He also said full-face helmets reduced head injuries in road accidents compared to other helmets.
He agreed that full-face helmets with visors helped prevent respiratory diseases and added that visors gave more safety as they cut off the wind and prevented insects flying onto the rider's face and causing accidents.
Dr. Jayasinghe pointed out, however, that riders wearing open-face helmets could still block out sun with sunglasses and tinted goggles.
Senior Superintendent of Police (SSP) Ajith Rohana said open-face helmets without tinted visors would expose riders' faces for clear identification.
He said the ban would be implemented from March 21. Motorcyclists wearing full-face helmets after that date would be fined Rs. 1,000 and be charged.
However, Deputy Inspector-General of Police of Crimes and Logistics, Gamini Dissanayake told The Sunday Times the regulation is still at the stage where it has been produced to the Cabinet for approval and a circular is to be sent out, with cabinet approval, to implement the regulation island-wide.
Police reports indicate there have been 128 incidents of robbery and murder involving full-face helmets so far, with the most recent incident reported from the Attidiya area on Monday where leading private bank was robbed and Rs. 2 million stolen by two unidentified men wearing full-face helmets with tinted visors.
The criminals assaulted the bank security officer.
Another incident was reported from Bokundara, Piliyandala, on February 16 where another bank was robbed by two men with full-face helmets who stole Rs. 1 million.
On December 23, two armed men broke into a currency exchange centre in Bentota and stole Rs. 2 million.A former CID senior deputy inspector-general of police who wished to stay anonymous said the new regulation would give police a 10-15 per cent extra chance of identifying suspects. But he too felt the new regulation should be a temporary measure to ensure security without violating fundamental rights of the public.
He said surveillance systems, frequent mobile patrols and improved standards in security with the support of police should be utilised to protect the public.
Managers of banks, other financial institutions and shops interviewed by The Sunday Times believed security would improve with the ban on full-face helmets.
One bank manager said she had instructed security personnel to be more vigilant and use extreme measures to prevent clients from entering the bank wearing full-face helmets or other gear that served to conceal their identity.
Acting media spokesman, Assistant Superintendent of Police (ASP) Ruwan Gunasekera acknowledged that the new regulation had a few problems, especially concerning riders' concerns over being exposed to dust, exhaust fumes, other air pollutants and sun glare.