'SKY FIESTA 2015' ends successfully
View(s):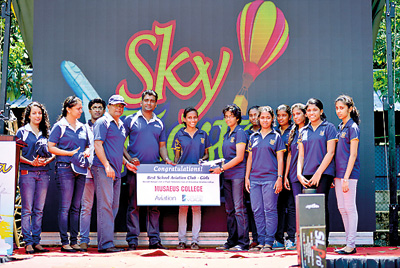 'Sky Fiesta 2015', a gathering of aviation lovers with their aviation equipment, organised by the Royal College Aviation Society in collaboration with the 'Aviation Voice' was held on 28 February at Royal College Grounds. Aviation Voice is a voluntary group who are working hard in aviation to prepare Sri Lanka's next generation to lead the aviation industry.
'Our purpose is to organise various types of aviation events and to motivate kids in aviation with assistance and co-operation of all the voluntary organisations' said Chathura Ranaweera, the chief organizer from the Aviation Voice.
H. M. C. Nimalsiri, Director General of Civil Aviation Authority of Sri Lanka graced the occasion as the Chief Guest. Primal de Silva, General Manager, SriLankan Aviation College, Buddhika Hewawasam, Deputy General Manager, Marketing and Promotions, SriLankan Aviation College,. Upali Gunasekara, Principal of Royal College, Members of Aviation Voice, Students and General Public were among the gathering.
SriLankan Aviation College of SriLankan Airlines Ltd., Hobitec Lanka (pvt) Ltd., Cinnamon Air, Asian Aviation Center, Skyline Aviation, Aspire Aviation Institute, OpenSkies Flying School, Millennium Flight Academy, Fairways Aviation, UAV Team, University of Moratuwa Sky Club, Flying Arena, Foamy Flyers, Aerial View Photographers, Let Me Know Media team and 'Rotor Pixels Aerial Cinematography' have presented various projects representing their stalls.
SriLankan Aviation College was the main sponsor and Hobby Tech Lanka took the Co-sponsorship for this event.