Dinesh records highest sale for an instrumental
'Rawan Naada' sold out 16,000 album copies
View(s):
Talented young music director Dinesh Subasinghe has set a record by creating the highest selling instrumental music compact disc (CD) tittled 'Rawan Naada' in Sri Lanka.  Released under Tharanga label owned by Vijay Ramanayaka, the CD, Dinesh's first solo album had already sold out 16,000 copies over the last six years.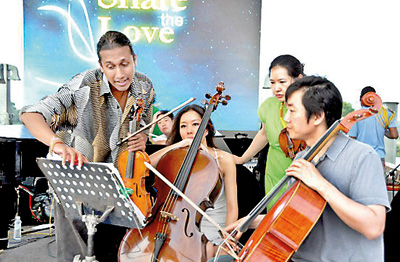 The album 'Ravan Naada' featuring Ravanahatha, the ancient instrument discovered by Dinesh, sold significantly to a large number of foreigners visiting Sri Lanka.  'Before 2007 Ravanahatha instrument was belonged to India, but Dinesh introduced modifications and reinvented taking its rights' Mr. Ramanayake said.
Dinesh changed the instrument texture into four strings from its original three strings in one version of that and the other version he changed the playing method and started sounding like a Sarangi.
The CD is consisted of soothing 12 instrumentals and two vocal songs and most of the instrumentals are well-known Sri Lankan melodies. The solo parts have been performed from Ravanahatha and Kingiri and other solo performance are done with guitar, saxophone, flute and English mandolin. The instrumentals are performed by a large orchestra and a choir.
"Ravanahatha has a great history and it is even mentioned in one of the oldest literature such as Ramayana' and has referred as the oldest instruments which was played using a bow," Ravana said.
With the historical relation to Rawna, Dinesh started a project to get the rights of Ravanahatha to Sri Lanka. In 2006 he started performing it in public and introduced it to the Sri Lankan audience and he used it in his performance in the television and even used in the recordings, movies and in concerts.
In India this instrument is not recognised very much as it belongs to gypsies in Delhi, Jaipure, Maharashtra area but Dinesh with new versions of it has brought honour and recognition to it.
In an article in June 2013 Knight Bachelor Sir Christopher Ondaatje who investigated the origins of the violin and had stated that ''it all started in Sri Lanka and Sri Lanka's Ravanahatha is the world's first violin''.
In his article Sir Ondaatji had referred to Dinesh Subasinghe's new version of Ravanahatha as well. 'Ravan Naada' album can be purchased digitallly by Itunes, Amazon.com, Kapruka etc and available at M-Entertainment outlets, Arpico and Tharaga Store Nugegoda and Kandy.
Dinesh is also working on his new musical instrument which was named as 'Dithara' and it will be introduced in 2016-17. Apart from introducing Ravanahatha, Dinesh also has become the most youngest composer to write music for 64 Sri Lankan teledramas and 13 movies. He has been awarded for best music director in 2009 and 2012 in SIGNIS awards and Sumathi Awards respectively.