Talent and hard work at ECEDF bi-annual concert
By Purnima Pilapitiya
View(s):
The room echoes with the joyful noise one associates with children. In the background, Hindi music plays while a few practise their dance moves. In less than a week the Exceptional Children's Educational Development Foundation (ECEDF) will showcase their talent and hard work at their bi-annual concert.
The foundation is the brainchild of a few parents of children with learning disabilities and hearing impairments. What began as an initiative to nurture their children's talents and love for the arts has grown in leaps and bounds since its inception in 1992. From musical evenings to annual picnics, medical camps and awareness workshops, the foundation gives its young members the opportunity to explore their aesthetic abilities with song and dance.
It proves a fruitless task, trying to keep Gayani Edirisinghe in one place for more than a couple of minutes. The sole dancing teacher at the Foundation she seamlessly disappears through the sea of children, adjusting postures and stances, changing the music with a bubbly personality and unmatched energy. "It's changed my life," she says. Gayani first joined the foundation while studying music and the performing arts back in 1999. A teacher by profession, she confesses that she learns more from her students here than she does in her classrooms during her day job. "It does take them a while to understand, but when they do, they really unleash their talent."
As with any concert, preparations and practices have been going on almost religiously for ECEDF. With only a few days to go everyone has a part to play; from the youngest at eight years old to the older members; some of who are working. But everyone finds time to come for practices. "We don't like to bother the parents," explains Ramani Samaraweera, the treasurer of the foundation, explaining that even the bus fare to come for practices is organised by them, so that no one is left out.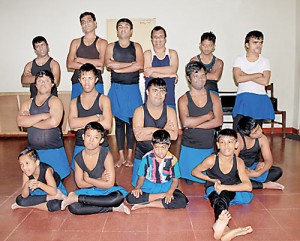 Sundays are eagerly looked forward to by the young ones. For Mayani Perera and the other four volunteers the sentiment is the same. A volunteer since 2009, 24-year-old Mayani has many a time witnessed the impact of music and dance on the youngsters. "When they start they are very quiet," she explains, "but soon become confident and make friends easily with the others."
A lady seated in a corner, introduces herself as 'Vidura's mother'. Vidura, aged eight is one of the youngest and newer members of the foundation. Every Sunday finds many other mothers spending their afternoons like her, seated outside the practice, a sort of community of their own. Seeing a major change in him since he started coming she says, "He starts dancing even when he hears music on TV," adding that he has started taking more interest in his schoolwork as well.
With only Sundays and the occasional school holidays during which they can practise, the biggest obstacle they face is finding a permanent place they can call their own.
The concert organised by the Exceptional Children's Education and Development Foundation will be held on Saturday, March 7 at the Bishop's College Auditorium at 3.30 p.m. Tickets priced at Rs. 500, Rs. 1000 and Rs.2000 are available at the auditorium or visit them on their Facebook page http://www.sundaytimes.lk/150301/