Preparing for Commonwealth Association of Architects Golden Jubilee
View(s):

Rukshan Widyalankara, President of the Commonwealth Association of Architects was in London recently to see the arrangements at the Royal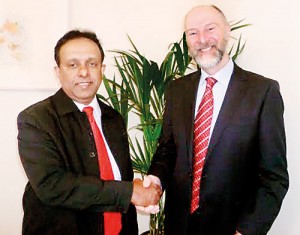 Institute of British Architects for the upcoming two-day international summit organised to mark the Golden Jubilee of the Commonwealth Association of Architects to be held from June 17 – 18.
During his visit, Mr. Widyalankara met with Gary Dunn, Deputy Secretary-General of the Commonwealth at Marlborough House, London.
Designing City Resilience 2015 is the theme of the summit. The summit has been created to foster and support an international exchange of ideas between organisations, professions, sectors and city leaders, to bring world-class thinking to the current and culture challenges faced by cities around the world.