Submissions for Annasi & Kadalagotu Vol V
View(s):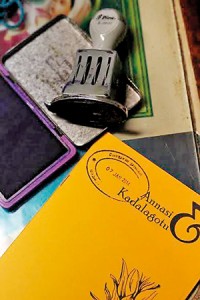 Submissions for the Annasi & Kadalagotu Vol V are open until March 15, 2015. Poets are encouraged to send in their most recent, previously unpublished work to publisher@kadalagotu.com
Annasi & Kadalagotu, coined by Capt Elmo Jayawardena, author of Sam's Story (Gratiaen Prize 2001) and co-founded by Imaad Majeed, is a small-press publishing house based in Colombo, focusing on contemporary Sri Lankan poetry.
The flagship publication is the Annasi & Kadalagotu chapbook, of which three volumes have been published. Each chapbook features 8 Sri Lankan poet's writing in the English language, or translated from Sinhala and Tamil, with no one poet repeated. The goal is to document the work of 24 poets in a year, and so on.
When making submissions, please note that online mediums such as Facebook and blogs are considered effective publishing mediums, and, hence, work that has appeared on such platforms will not be accepted. Similarly, material that has appeared on any printed form will not be accepted. Each poem must be of 'reasonable length'. Poems written in Sinhala or Tamil will be translated to English with the consent and consultation of the poet.
The Annasi & Kadalagotu chapbook is not for purchase, but distributed freely through viva voce, Hansa Cafe and Charcoal Gallery Cafe. Vol V will be made available at the Annasi & Kadalagotu Lit Fest (AK Lit Fest), April 25, 2015 at the Western Province Aesthetic Resort.