Mahoora Yala in world's top 10
'Most Romantic Safari Lodges'
View(s):
Sri Lanka's very own Mahoora Tented Safari Camps in Yala made it into a list of the world's top 10 most romantic safari lodges recently, marking yet another memorable milestone. Mahoora was picked by Huffington Post, a premier global online news site, in an article featuring the 10 most romantic safari lodges in the world.
The listing highlights Mahoora's excellence and reaffirms its commitment to providing truly unforgettable experiences to discerning travellers. The top picks included widely-popular safari lodges in Africa and one in India, making the Lankan operation's achievement all the more noteworthy. While this accolade is indeed a highpoint for Mahoora, it's not really surprising that it was included in the top 10 list, given that Mahoora has a proven track record of offering guests a truly outstanding experience every single time.
The luxury tented safari camp operation of Eco Team (Pvt.) Ltd., is the pioneer provider of tented safari camping in Sri Lanka and has perfected its offering over the years. A Mahoora camping experience is unlike any other wildlife experience available in Sri Lanka, as it takes you to right into the heart of nature without sacrificing on luxury.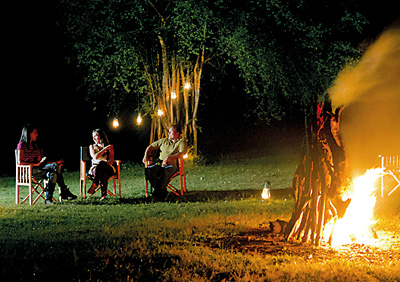 Its luxury tented accommodation is akin to that of a star-class hotel and comprises hot water, fully-functional toilets, toiletries, luxurious bedding, and a range of other amenities that go hand-in-hand with a Mahoora experience.  Reaffirming its commitment to the environment and in line with eco-friendly and sustainable practices, the tents themselves are fabricated in Sri Lanka using locally-sourced environmentally-friendly material of the highest standards.
In fact, Mahoora also takes pride in being the world's first carbon neutral mobile tented safari camp company and has taken steps to offset its comparably low operational footprint for the betterment of the environment. Yala National Park is the most popular mobile tented camping destination the operator offers, owing to the park's high concentration of wild Sri Lankan leopards. It also operates luxury camps in 11 other locations throughout Sri Lanka, taking into account the diverse wildlife experiences that this island has to offer.
Mahoora Elite Tented Camps operate in prime wildlife locations such as Wilpattu, Udawalawe, Minneriya, Sinharaja, Kumana, and Bundala. Experienced naturalist guides are part of every wildlife safari tour, making each experience all the more memorable, and Mahoora promises – and delivers – an unmatched experience in every instance, be it a jeep safari in Yala or a walking safari in Knuckles.

Commenting on Mahoora's inclusion in Huffington Post UK's listing in its lifestyle section, Eco Team (Pvt.) Ltd. CEO Anuruddha Bandara attributed it to the hard work and dedication of his team. "We are truly delighted to be recognised once again as one of the world's best in what we do. We consider this a reward for our commitment to delivering high-quality experiential safari products suitable for niche groups. We specialise in providing a private high-end romantic atmosphere in the midst of the wilderness for couples on their honeymoon and others. I am grateful to my hardworking team that Mahoora was recognised by Huffington Post UK," he added.
Each Mahoora experience is as unique and as exciting as the next, especially given Sri Lanka's varied and impressive wildlife offering, which never fails to amaze, ranging from majestic leopards to the truly impressive list of birds that call the island home. Mahoora is well-equipped to provide private accommodation on request, providing honeymooners an amazing overall experience – be it a romantic lantern-lit dinner for two on the banks of a river, or having meals served in the privacy and intimacy of the tent.