New Education Minister Akila Viraj Kariyawasam hits the ground running
View(s):

New Education Minister Akila Viraj Kariyawasam is poised to make several changes in the country's Education system. The first-time Minister is geared for the challenge and is set to make several tough decisions which may not be popular with everyone, he says.

Speaking to the Education Times after he assumed his duties, the Minister said he would streamline a number of irregularities within the current system, including school admissions, teacher transfers and promotions and the current syllabi.

However, he assured that projects launched by the previous administration– if feasible, will not be discontinued.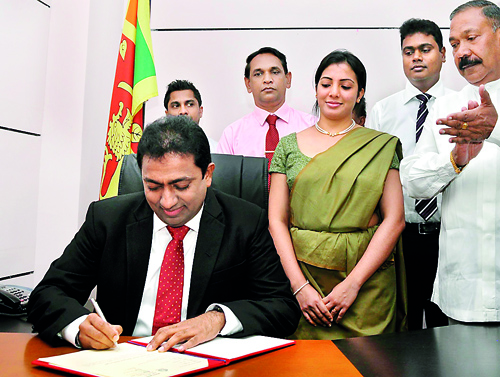 "We will look into all the projects that were started, and study them before making any decisions. There were some projects started without proper planning and policy considerations, which will be stopped, but other projects which are feasible will continue," Minister Kariyawasam assured.
However, one project which would be scrapped is the new School Development Programme. This system introduced by former Minister Bandula Gunawardana, funded the development of selected Secondary schools, while other schools were downgraded to Primary schools. The downgraded schools were to act as feeder schools to the selected Secondary schools. This system will be abolished, the Minister said.
Trade unions will however, have to wait a while longer for their promotion demands to be met. Teacher trade unions including the Ceylon Teachers' Union have been demanding that promotions of both teachers and principals pending since 2006, be granted. Demanding the promotions, teacher unions threatened trade union action even just before elections were held. This was also pledged in the 2015 Budget proposals, along with the establishment of Teacher Service Minutes which were rejected by the trade unions. However, these promotions and others planned by the previous government will be now put on hold until a proper assessment is made.
"I understand that there are many political appointments. We have to establish that promotions are given to those with the required qualifications," Minister Kariyawasam explained.
"There are teachers who have been appointed as acting principals, who now want to be promoted to principal grade, but they do not possess the necessary qualifications. The previous government then has added separate marks for 'Acting Principal' post in the promotion marking scheme, to enable their favourites to get promoted. Their appointments and promotions were given on political grounds, which will not be entertained".
He is also intends to introduce a new system for school admissions, both to Grade 1 and to popular schools.
A new system will be established to ensure that no admission – outside of circulars- to popular schools will take place under his administration, the Minister said.
Further, all such admissions will have to be approved by the Minister in future. Approval will be given on case-by-case basis, and only to those who have valid reasons to appeal for such an admission.
"I will appoint a new officer who will work under my supervision to work on this matter. If not, everyone in the chain of command will grant admissions to popular schools."
The Minister also insisted that principals should not send individuals to the ministry, to obtain letters of approval to admit students to their schools.
"There is a proper circular on the matter and they should act accordingly. If any principal sends anybody to the ministry, they will be dealt with severely," warned Minister Kariyawasam.
The Minister will also look into limiting students per classroom. Claiming that, some schools have very high numbers of students per class, the Minister said that a proper mechanism will be established with the help of Education experts, to limit classroom numbers.
The Ministry will establish a new unit, similar to the unit which scrutinises Private schools, to monitor International schools.
Damith Wickremasekera and Chaturi Dissanayake
A Qualified Minister of Education
A student of Kuliyapitiya Central College, Minister Akila Viraj Kariyawasam graduated from the University of Colombo in 1999, offering International Relations, Economics and Political Science. He then obtained his LLB Degree from the Open University and qualified as an Attorney-at-Law from the Law College, simultaneously.
His first appointment was Advisor to the Ministry of Policy Planning & Implementation. He has also served as a Director of Tharuna Aruna in 2001
Minister Kariyawasam was involved in active politics from his student days, and led the 'Sarasawi Yowun Peramuna' while at university, and subsequently becoming chairman of the 'Jathika Yowun Peramuna'.